While trade group's survey still finds a lot of negative sentiment, its outlook index posts first slight gain in a year.
NEW YORK (CNNMoney.com) -- Home builders' confidence about the market may have bottomed out.
The builders' trade group's survey of their outlook, released Tuesday, ticked up slightly in October for the first time in a year. But their view of the market is still decidedly negative.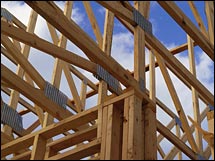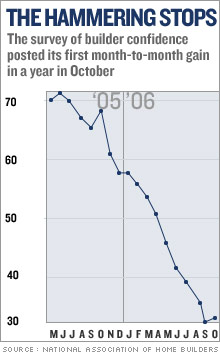 The National Association of Home Builders/Wells Fargo Index came in with a reading of 31, up from 30 in September.
The last time the index showed a month-to-month increase was October 2005, when it rose to 68 from 65.
The only month in the last 12 that there wasn't a decrease in the index was January, when the index stayed unchanged.
But any reading below 50 indicates a majority of those builders surveyed have a negative view about the market, so the new reading does not signal that builders see a strong market.
In fact, four times as many builders viewed the current market for single-family homes as "poor" - 48 percent - as the 12 percent who view it as "good."
While those viewing the market as good slipped from 16 percent in September, those viewing it as poor also decreased from 51 percent last month, which had been a high point for that negative view since early 1991.
By comparison, a year earlier the survey found 56 percent rating the market at that time as "good" and only 13 precent rating it as "poor."
Tuesday's survey found the builders' near-term outlook isn't great, either, as only 15 percent had good expectations about the market, compared to the 37 percent who had poor expectations.
And the builders continue to report weak interest from potential buyers to the survey, with only 2.9 percent reporting "high" customer traffic, unchanged from September. The survey also showed 59.5 percent reporting "low" traffic, up slightly from September's reading and the biggest share reporting low trafffic since January 1995.
Still, David Seiders, chief economist for the National Association of Home Builders, said he's hopeful maybe the home building market has at least bottomed out and can start to improve from here.
"We're not out of the woods yet, but maybe the worst is over," said Seiders. "The mortgage interest rate story is positive coming off the highs of early July, and the energy price decline seems to be an important factor. Builders were telling us when people were paying record gas prices, it was putting a damper on building because they didn't know if they could pay for longer commutes or to heat a home."
The average 30-year fixed rate mortgage rose as high as 6.8 percent in July, which had been a four-year high, before falling back to 6.3 percent in early October, according to a survey by mortgage financier Freddie Mac. Rates rebounded to 6.37 percent in last week's report.
The builders' confidence survey comes the day before the Census Bureau is due to report on housing starts and building permits. Economists surveyed by Briefing.com forecast that starts slipped to an annual rate of 1.65 million in September, from 1.67 million, while new permits slowed to a 1.72 million pace from 1.73 million.
"I hope we don't see any jump in housing starts or permits," said Seiders. "We still have an inventory to work through."
The glut of both new and existing homes on the market has led to relatively rare year-over-year declines in the price of both a typical existing home and new home, according to other reports.
Most of the nation's leading home builders, including Lennar (Charts), Toll Brothers (Charts), Centex (Charts), Pulte Homes (Charts), D.R. Horton (Charts), KB Home (Charts)and Hovnanian Enterprises (Charts) saw their shares down more than 1 percent about hour after the release of the survey at 1 p.m. ET.
FTC targets real estate brokers for unfair practices