GE's media subsidiary hopes to save $750 million through job cuts and a bigger focus on reality TV programs. But is this the right move?
NEW YORK (CNNMoney.com) -- The Peacock Network may be making a comeback in the primetimes ratings race this season. But that's not enough to keep NBC's parent company from taking some major steps to improve profitability.
NBC Universal, the media subsidiary of General Electric (Charts), announced Thursday that it is laying off 700 people, or about 5 percent of the company's total workforce, by the end of 2008. Most of the job cuts are expected to take place in NBC's news division. (GE owns 80 percent of NBC Universal and French media firm Vivendi owns the remainder.)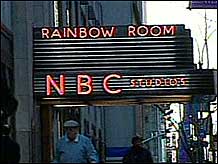 CNN's Andy Serwer is 'Minding Your Business' on the future of NBC Universal (October 19)
Play video

The NBC Universal division, which also owns the Bravo and USA cable channels, Spanish language network Telemundo and the Universal movie studio, said Thursday it plans to reduce annual operating and administrative expenses by $750 million by the end of 2008.
In a statement, the company said that it plans to invest savings into higher growth areas such as NBC's digital initiatives as more and more consumers seek out entertainment on Web sites such as Yahoo! (Charts) and YouTube, which Google (Charts) recently announced plans to acquire.
NBC Universal bought iVillage, a web site that caters to women, earlier this year, and also has been focusing more on NBC.com, NBCSports.com and its new comedy site dotcomedy.com. The company said it expects digital revenue to exceed $1 billion by 2009.
"Success in this business means quickly adjusting to and anticipating change. This initiative is designed to help us exploit technology and focus our resources, as we continue our transformation into a digital media company for the 21st century," said NBC Universal chairman and CEO and GE vice chairman Bob Wright in a statement.
Ratings revival not enough to boost profits yet
NBC has finished in fourth place among the major networks during the past two seasons in the ratings race for the key 18-49 year-old demographic that advertisers find most attractive. But so far this year, NBC has bounced back thanks to new hit "Heroes" as well as its "Sunday Night Football" telecasts.
According to Nielsen Media Research, NBC ranked third with 18-48 year-olds through mid-October and was the only network to report an increase in 18-49 year-old viewers.
What's more, NBC trails second-place CBS (Charts) in this demographic by only a narrow margin. Walt Disney (Charts)-owned ABC is the 18-49 ratings leader while News Corp.'s (Charts) Fox is in fourth.
NBC Universal accounts for less than 10 percent of GE's total sales and profits but struggles at the unit have cut into GE's overall financial performance.
When GE reported third quarter results last week, the company said that operating profits in the NBC Universal division fell 10 percent from a year earlier. But the company said that the unit should post an increase in profits during the fourth quarter, partly due to the better ratings.
One media buyer said that despite the ratings improvement, these moves were necessary.
"It's unfortunate for NBC employees but it's inevitable when we look at the economics of the TV business. Some may have hoped that the ratings turnaround would be so dramatic to stave off changes but that doesn't appear to be the case," said Bill Carroll, vice president and director of programming with Katz Television Group.
Carroll added that the other networks will be watching closely to see how NBC's ratings do in the wake of these changes.
"If NBC appears to be more successful taking this more frugal approach then there's going to be significant pressure on everyone else to do the same," he said. "But if cutting corners impacts them negatively, they'll be back to their old ways."
Will more reality pay off?
There is also speculation that NBC is also planning on cutting back on the number of sit-coms and dramas in prime-time since they are more costly to produce. The network is said to be considering no longer scheduling scripted shows, particularly during the 8pm to 9pm time slot.
One of NBC's biggest hits right now is the game show "Deal or No Deal," which already airs three times a week. The network also debuted a new game show "1 vs. 100" last week.
One media buyer said NBC is merely trying to cash in on a hot trend and that the move to more reality programs, such as game shows, could be a boon for the network.
"Advertising investment is a reflection of audience interest. And if NBC can create compelling reality and game show hits, it doesn't have to be a negative," said John Rash, senior vice president and director of media negotiations with Campbell Mithun.
But another media buyer wondered if that really was the right move for NBC. After all, many reality shows and game shows tend to be more of a fad.
ABC, for example, had a huge hit on its hands in 1999 with "Who Wants to Be a Millionaire" but ABC ultimately wound up running the show so many times that it burned out audiences by 2001, causing an overall ratings slump at the network.
"Scripted programs cost more money. There's no doubt about it. But saving money to do more reality is not going to be good for NBC in the long run," said Gary Carr, senior vice president and director of national broadcast with TargetCast tcm. "The audiences for networks are being eroded by all the other alternatives out there so TV has to keep churning out first-rate shows."
And Rash conceded that NBC is taking a big risk.
"It's difficult in any genre to create seven nights of strong programs. Limiting the network to a lot unscripted fare will create new challenges," he said.
In addition to the prime-time changes, NBC Universal said it will modernize and consolidate its news operations in New York and California and focus more on its Telemundo operations. NBC Universal also plans to cut costs in its movie studio.
Universal Pictures has had a rough go lately. This year, the studio does not have any movies ranked among the top ten grossing films in the U.S. Its biggest box office hit has been the Jennifer Aniston-Vince Vaughn comedy, "The Break-Up," with $118.7 million in ticket sales.
The heavily hyped and big budget film "Miami Vice" has been a flop, grossing only $63.5 million so far. And last year's "King Kong," even though it grossed $218 million, was considered a disappointment since many movie insiders thought the film could have generated more than $300 million at the box office.