NEW YORK (CNNMoney.com) -- The pace of new home sales fell more than expected in October, although prices showed strength after a couple months of weakness, according to a government report.
The pace of new home sales fell to an annual rate of just over 1 million from 1.04 million in September, which was also revised lower. Economists surveyed by Briefing.com had forecast that the annual sales rate would fall to 1.05 million from the original reading of a 1.08 million sales pace in September.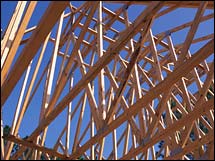 But the median price of a new home sold in the month jumped to $248,500, according to the report, up 13.9 percent from September and 1.9 percent from a year earlier.
The price increase came even though the report also showed a record 166,000 completed homes available for sale, up from 160,000 in September. But as builders have pulled back on housing starts and permits for new homes, the total supply of new homes available for sale, including those not yet started, has leveled off at a seasonally-adjusted 558,000, down from 562,000 in September and a record 573,000 in July.
Other measures of housing prices have all reported a recent drop in home prices. For example, Tuesday the National Association of Realtors reported the largest drop in existing home prices sales on record, on a year-over-year basis.
The median new home price in September had been down 9.2 percent from year-earlier levels, the largest drop since 1970 and the fifth biggest drop in that price measure in the 43-year history of the report.
The price jump in October could suggest that the September price was an anomaly, said David Seiders, chief economist for the National Association of Home Builders.
"I argued last month not to pay attention to that price number, so I wouldn't pay much attention to this number either," he said. "One thing we know is that prices aren't climbing."
Seiders said his group's survey of builders has found significant weakness in new home prices due to the large supply of homes. For example, 48 percent of builders surveyed reported cutting prices in November, up from 44 percent in September and only 18 percent in January.
In addition, 59 percent are offering incentives, such as marble counters in the kitchen or other extras at no cost, up from only 41 percent who were doing so in January, while half of those surveyed are covering a buyer's closing cost, up from 31 percent in January. Those kinds of inducements to buyers are not captured by the government's report on prices.
"This report does suggest that the sales activity has probably started to stabilize, albeit at a low level," said Seiders. "Then you need the sales to hold and improve in order to work down the inventory."
The report showed every region but the West having a decline in sales from September, with sales plunging 39 percent in the Northeast, and slipping 1.7 percent in the South, the largest region for building.
All regions showed much steeper slowdown in sales compared to October 2005, when building was still near its peak, with declines ranging from about 15 percent in the South to 53 percent in the Northeast. Overall the national pace of new home sales is down 25 percent from the year-earlier pace.
Major builders, including Pulte Home (Charts), Centex (Charts), D.R. Horton (Charts), Lennar (Charts), KB Home (Charts) and Toll Brothers (Charts) have all seen sales and earnings fall sharply this year in the face of the housing slowdown, with many warning the sector has yet to find a bottom.
Home sales: Biggest drop on record in October
Where not to buy now