NEW YORK (CNNMoney.com) -- After a rough couple of years dealing with patent expirations and the often frustrating hunt for new products, drug industry executives would love nothing better than an oracle to predict what products in their labs will become the big blockbuster drugs over the next few years.
But they don't have one.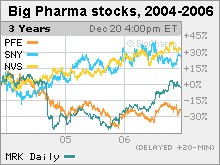 That said, here are five products that could turn out to be big for Big Pharma in 2007. All of the products save one are for either diabetes, (a $20 billion market), heart disease ($85 billion) or obesity ($35 billion).
All the treatments were either recently approved by the Food and Drug Administration, are awaiting an FDA decision or are in late-stage testing.
One big question facing the industry, and investors, is whether any of these products alone are enough to help boost drugs stocks, which have had a rough ride in recent years (see chart).
Analysts seem most bullish about Januvia, a recently approved diabetes drug from Merck (Charts). With this year's patent loss for cholesterol drug Zocor and the ongoing litigation over its withdrawn arthritis painkiller Vioxx, Merck really needs a new drug.
"We estimate that Merck has the largest dollar amount of patent expiration in the industry between 2006-2008, followed by another patent cycle [of expirations] between 2010-2012," wrote Chris Schott, analyst for Bank of America, in a Dec. 12 report. And he added, "The combination of this exposure and Vioxx litigation that will accelerate over the coming months leaves us at a Neutral rating on the stock."
The FDA approved Januvia in October. The drug helps diabetics control their blood-sugar levels by enhancing the body's ability to produce its own insulin, which diabetics have difficulty doing naturally.
Januvia is a "first-in-class" drug, which means it is the first in its drug class to come to market. Analysts expect the drug to be a blockbuster. Michael Krensavage, analyst for Raymond James, projects Januvia sales will exceed $500 million in the U.S. in 2007, eventually peaking at $2.5 billion annually.
"We're very optimistic on Januvia," said Joe Tooley, analyst for A.G. Edwards, who is considering raising his own conservative sales estimate for the drug. Tooley said Januvia is "a great addition to the treatment of diabetes" and could compete well against other diabetes drugs, like Actos from Takeda (up $0.80 to $67.01, Charts) and Avandia from GlaxoSmithKline (down $0.09 to $52.20, Charts).
But whether the drug helps Merck's stock remains to be seen, partly because the market could get crowded.
Januvia faces potential competition from Galvus, an experimental drug from the Swiss drug giant Novartis (down $0.41 to $57.89, Charts). The drugs are similar in many respects, including their status as once-a-day pills, and their ability to lower blood-sugar levels in diabetics while helping them to lose weight, or at least to avoid gaining it.
But Galvus got a rough start with the FDA, which delayed its decision on the drug, though Novartis now anticipates approval in the first half of 2007. Despite the initial hang-ups (skin problems in test monkeys), analysts said that sales could be big. Tooley of A.G. Edwards projects $1.7 billion in annual worldwide Galvus sales by 2011, with Januvia sales reaching $2 billion that year.
A new cholesterol drug
Merck (up $0.31 to $43.61, Charts) is testing a cholesterol combo that includes Zocor, which lost patent protection in June 2006, and an experimental cholesterol drug called MK-0524A. Zocor lowers LDL, also known as "bad" cholesterol. The experimental drug is being tested for its ability to increase HDL, or "good" cholesterol, while reducing facial flushing, a common side effect with this type of drug. A successful combination would accomplish all of these things in one pill.
The blockbuster Zocor has been one of the top earners for Merck, totaling $4.4 billion in 2005 sales. But now with the patent expired, Merck is forecasting that sales will slump to between $600 million and $900 million next year as generic drugmakers crowd the market with cheaper versions. Merck believes that combining generic Zocor with a name-brand drug could help it hold onto sales.
Does that plan sound familiar? Pfizer (down $0.03 to $26.18, Charts) tried it, by combining cholesterol-cutting Lipitor, the world's top-selling drug with $12.2 billion in 2005 sales, with the doomed experimental drug torcetrapib, which Pfizer scrapped earlier this month after studies showed that 82 patients taking torcetrapib with Lipitor died from heart disease, compared to 51 deaths among patients who took only Lipitor.
At a Dec. 12 news event, Merck research head Dr. Peter Kim sought to separate Merck's experimental cholesterol drug from torcetrapib by emphasizing that there were "no serious cardiovascular disturbances" in early-stage studies for the Merck drug.
The Merck combination is in phase 3, or the latest stage of clinical trials before submission to the Food and Drug Administration. Merck plans to submit it to the FDA in 2007.
But the sales outlook for the drug is cloudy, according to Tooley at A.G. Edwards. He said the single drug - MK-0524A - will probably bring in more sales than the combo, at least initially, because it's set to get on the market sooner, and because the combo could be slowed down by intellectual property issues. Tooley projects $800 million in annual sales for the single drug by 2011, with $400 million for the combo that same year.
Arcoxia
Merck has filed an experimental arthritis painkiller called Arcoxia with the FDA, and the agency might make a decision on the drug sometime next year. The anti-inflammatory is already available in 62 countries, with sales totaling nearly $200 million in the first nine months of 2006.
But Arcoxia could be a hard sell for the FDA, and American patients, since it's a so-called Cox-2 inhibitor, a member of the same drug class as Vioxx, another arthritis painkiller that Merck pulled off the market in 2004. Vioxx once generated about $2.5 billion in annual sales but has become a major liability for Merck, which is facing more than 20,000 lawsuits over how it marketed the drug.
Dr. Kim, president of Merck Research Labs, sought to differentiate Arcoxia from Vioxx by citing a study that said it was no more dangerous in terms of heart risk than the commonly prescribed painkiller known as diclofenac, which is in the same class of drugs as naproxen and ibuprofen. But critics of the study say that Merck picked the riskiest drug in that class for its comparison study to influence the outcome.
Assuming FDA approval, how popular is Arcoxia expected to be in terms of sales?
"In the U.S., we project zero," said Tooley of A.G. Edwards, adding there's still "a lot of controversy" about Arcoxia and comparing the drug to diclofenac "is not overly convincing."
Pfizer's Celebrex is the only Cox-2 inhibitor on the U.S. market right now, and the company is more-or-less on track to meet is goal of $2 billion in sales this year.
Acomplia
Sanofi-Aventis (down $0.17 to $45.33, Charts), one of the biggest drugmakers in Europe, is trying to get its drug Acomplia, which is available overseas, approved by the FDA. Acomplia is primarily a treatment for diabetics, but the drug is unusually multi-faceted and is being tested for other indications, including weight loss, reducing blood-sugar levels and trimming fat cells. These symptoms are inter-related, as obesity often leads to diabetes, and diabetes often leads to obesity, thus the industry term "diabesity."
Some studies have also suggested that Acomplia may also be able to reduce smokers' craving for cigarettes. There are concerns, though, about depression as a side effect, some analysts said.
Gbola Amusa, analyst for Sanford C. Bernstein, expects the drug to be approved by the FDA in the first half of 2007, and projects it will eventually reach $5 billion in annual sales. Schott of Bank of America projects $2.9 billion by 2010.
Is that enough to boost Sanofi stock, which has bucked the trend and climbed about 20 percent since the start of 2004? Schott Bank of America, Tooley at A.G. Edwards, and Amusa of Bernstein all rate it a buy.
The analysts quoted for this story do not own shares of stock in the companies mentioned here, though their firms do conduct investment banking for them or make a market with them.
FDA OKs first vaccine for cervical cancer
The making of Gardasil