NEW YORK (CNNMoney.com) -- A last-minute buying binge may have delivered a stellar final weekend of holiday sales but total retail sales gains for the 2006 holiday shopping period still fell short versus last year.
According to SpendingPulse, the retail data service provider for MasterCard Advisors, retail sales from the day after Thanksgiving through Dec. 24, excluding automobiles, grew about 6.6 percent this year -- softer than last year's 8.7 percent increase.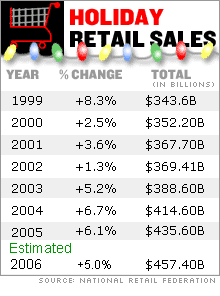 But the season's not over yet and analysts expect stores will slash prices in post-Christmas "clearance" sales to unload merchandise.
For instance, Sears (Charts) on Tuesday is giving shoppers special "cash-back" offers on home appliances.
Wal-Mart (Charts), the world's largest retailer, already initiated "clearance" sales on digital cameras, toys, DVD camcorders and a few flatscreen TV models.
And Toys "R" Us set 50 percent off on a variety of toys this week.
"Retailers have learned that it's risky not to promote post-Christmas. Believe it or not, there are plenty of consumers who will go shopping for gifts after Christmas," said Marshal Cohen, chief retail analyst with market research firm NPD Group.
Also merchants recognize that gift cards have become a key component of the after-Christmas period.
The NRF said it expects gift card sales will total $24.81 billion this holiday season, a $6 billion increase over last year. But retailers can't record sales from gift cards until the cards are actually redeemed.
Analysts said consumers this week can expect retailers to set additional deals to lure in gift card sales and clear surpluses.
Tougher comparisons ahead
With Christmas Day falling on a Monday, industry watchers said retailers did see some benefits from an additional shopping day.
When you have a 30-day period, one extra shopping day does add quite a bit to the total season growth rate, Michael McNamara, vice president of research and analysis for MasterCard Advisors, said in a statement.
When adjusted for that extra shopping day, holiday sales rose only 3 percent, versus last year's 5.2 percent increase for a comparable 30-day period.
Also, the SpendingPulse report said bad weather in some areas of the nation kept shoppers away from malls and hurt already sluggish apparel sales.
"I think a lot of people were hoping that the end of the season would really bail out a lot of the apparel sectors," he said. "The disruptive weather didn't help."
Joseph Feldman, research analyst with Telsey Advisory Group, said he anticipates the first-half of 2007 to be "challenging" for retailers.
They're up against strong profit and same-store sales comparisons in the first half of next year, he said.
"But at the end of the day, what drives consumer spending is the labor market and interest rates," Feldman said. "Interest rates are still low and the labor market is pretty tight. So consumers are armed with the ability to spend heading into next year."
For its part, the National Retail Federation (NRF), anticipates that sales during November and December will rise 5 percent to $457.4 billion, which is lower than last year's 6.1 percent increase for the same period last year.
Black Friday bigger than Super Saturday
.
Black Friday, or the day after Thanksgiving, typically kicks off the year-end gift-buying marathon and is characterized by day-long bargains.
However, the Saturday before Christmas usually emerges as the busiest shopping day of the year.
Not this year.
Market research firm Shoppertrak said Monday its initial estimates indicate that sales this past Saturday totaled $8.72 billion, just short of Black Friday's strong sales of $8.96 billion.
Sales for Friday, Dec. 22 and Sat., Dec. 23 combined to total $16.28 billion, up 22.5 percent over the same two-day period in 2005.
"It's possible that consumers may have responded to the anticipated large crowds on 'Super Saturday' and pushed to get their shopping done earlier in the week, or simply taken pains to avoid crowded malls altogether," Bill Martin, co-founder of ShopperTrak, said in a statement.
"While it appears Super Saturday finished second to Black Friday this year, the total dollars spent indicate a very strong close to the holiday shopping season as procrastinating shoppers proved they were willing to spend," Martin added.
Holiday online sales surge to $21.6B