NEW YORK (CNNMoney.com) -- Netflix and Amazon be warned: "Click-and-mortar" retailers like Sears.com and JCPenney.com showed the most improvement online this holiday season, an industry report said Wednesday, though they still lagged well behind the big "pure-play" Internet retailers.
The second annual "Top 40 Online Retail Satisfaction Index," from market research firm ForeSee Results, showed customer satisfaction among all Web shoppers edged up one point to 75 on a 100-point scale - showing consumers were slightly more satisfied with their Web shopping experience this year versus last year.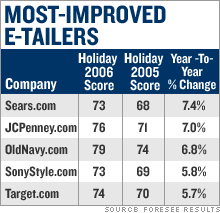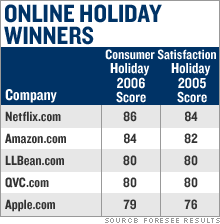 The index ranks the biggest commerce sites in terms of service, product selection and prices.
The most-improved sites, or those that showed the best year-over-year increase in their scores, included Sears.com, JCPenney.com, OldNavy.com and Target.com (Charts). One traditional retailer not on this part of the list: Wal-Mart.
"We were surprised by this year's list, particularly the success that multi-channel retailers like Sears and J.C. Penney, who have a traditional brick-and-mortar heritage, have had with Web shoppers," said Larry Freed, president and CEO of ForeSee, based in Ann Arbor, Mich.
Both Sears.com and JCPenney.com have stepped up the look, functionality and usability of their sites, he said. "Sears this year added customer reviews to its site and it resonated well with consumers," according to Freed.
The report is good news for some traditional retailers after a somewhat disappointing 2006 holiday shopping season for discount and department stores. The National Retail Federation expects that total holiday sales rose 5 percent this year, slower than last year's 6.1 percent increase.
But it's been a decidedly different picture for online retailers. Consumers set a single-day record of $667 million in online sales on Dec. 11. And total online holiday sales are forecast to jump 25 percent this year, keeping pace with last year's hefty increases..
"In the past we have generally seen the pure-play Internet retailers outshine the traditional multi-channel retailers. If these traditional multi-channel retailers can keep focused on the customer and continue to achieve these types of improvements, they will [become] a tough set of competitors for the pure-play online retailers," Freed said in a phone interview.
Meanwhile, Walmart.com ranked No. 30 on the list with a score of 73, unchanged from last year in overall customer satisfaction. Wal-Mart (Charts), the world's largest retailer, overhauled its Web site in late October.
Freed speculated that this major face-lift ahead of the busy holiday shopping period may have turned off some shoppers. "The timing was difficult," he said. Consumers who were already familiar with the Web site were forced to get reacquainted with Walmart.com's new look and the new features.
"This became a distraction to holiday shoppers," Freed said.
Laggards this year included online electronics sellers like TigerDirect.com and Newegg.com. Both sites experienced a 1.3 percent dip in their customer satisfaction scores, which Freed attributed to the intense competition and price wars that erupted between electronics sellers this holiday season.
Meanwhile, movie rental service Netflix (Charts), Amazon.com (Charts) and LLBean.com led the index with the highest overall satisfaction scores. They ranked in that order last year as well.
Netflix captured the top spot in the overall ranking. "Netflix is great service. The company created a model that didn't exist whereby you could easily get what you wanted without having to wait for it," Freed said.
Amazon, he said, is not only considered a "benchmark" for other e-tailers but "it's also developing as a hybrid between a shopping site and a comparison shopping research tool," said Freed.
Stores cut prices to meet holiday sales goals
Holiday tally: Retail's winners and losers
Holiday online sales surge to $21.6B