NEW YORK (CNNMoney.com) -- General Motors released photos of a convertible Chevrolet Camaro concept vehicle Thursday. The car will be unveiled at the Detroit Auto Show on Sunday.
After revealing the hardtop version at the Detroit show last year, GM announced it would produce a new Camaro in 2009. A convertible version will go on sale in 2010.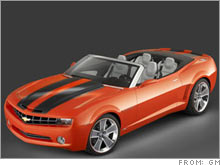 History is repeating itself with that planned reintroduction.
Gallery: Camaro future and past
The Camaro was first unveiled in 1966 in response to Ford's 1964 introduction of the Mustang. Its return was, once again, inspired by the success of the Mustang. This time it was the retro-styled 2005 model-year redesign that reignited passion for the pony car.
Production of the Camaro, and its close relative, the Pontiac Firebird, ended in 2002.
"If this Camaro convertible doesn't make your heart beat faster, you should either see your optometrist or your cardiologist, because you have a problem," said Ed Peper, general manager of GM's Chevrolet division, in an announcement accompanying the photos.
The concept is painted in "Hugger Orange" pearl tricoat, an update of a color originally offered in 1969.
The Camaro convertible concept car is powered by a 6.0-liter V-8 engine and has a manual transmission.
Gallery: Camaro future and past