NEW YORK (CNNMoney.com) -- Warm-weather woes and lack of a pronounced fashion trend took a big bite out of clothing sellers in the critical December holiday sales period - but sales at discounters such as Costco and Wal-Mart benefited from this year's price wars, especially in the electronics and toy categories.
According to weather tracking firm Planalytics, the warmest December in at least 10 years resulted in a shopping environment for the 2006 holiday period that strongly favored demand for nonseasonal merchandise.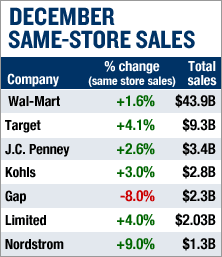 November and December together account for as much as 50 percent of retailers' annual profits and sales.
As a result, the apparel sector suffered the most from last month's unseasonably warm temperatures and wet conditions.
"Weather was part of the problem but there was also a modest decrease in consumer spending last month which dented sales at specialty stores," said Richard Hastings, senior retail analyst with Bernard Sands.
Sales at No. 1 apparel seller Gap Inc. (Charts) tumbled 8 percent last month despite heavy discounting throughout November and December. Citing the sales shortfall, the company cut its full-year profit forecast to 83 to 88 cents a share, down from its earlier forecast of $1.01 to $1.06 a share.
Given the disappointing sales and traffic trends at its Gap and Old Navy stores, Gap CEO Paul Pressler said in a statement that the company had initiated a review of brand strategies for both those divisions.
Women's clothing seller Chico's FAS (Charts) posted a 2 percent drop in December sales at its stores open at least a year, which is a widely watched measure of retail performance also known as same-store sales.
Sales at teen apparel seller Hot Topic (Charts) fell a worse than expected 5.1 percent versus analysts' expectations for a 3.4 percent decline. The retailer slashed its fourth-quarter profit guidance to 20 to 22 cents a share, down from its earlier estimate of 33 to 38 cents a share.
Analysts had forecast the retailer to earn 33 cents a share for the quarter. Hot Topic shares fell more than 10 percent in premarket trading Thursday.
Meanwhile, department store chains like J.C. Penney (Charts) and Macy's, which is owned by Federated Department Stores, posted tepid sales increases.
Penney's sales rose 2.6 percent, in line with analysts' forecasts. Federated reported a 4.4 percent rise, missing its own expectations for a 5 percent to 8 percent increase.
But those retailers that had the right merchandise escaped the sectoral downtrend. Among them, trendy apparel seller American Eagle Outfitters (Charts) reported that sales jumped 13 percent last month.
Joining the winners' club was high-end department store Nordstrom, with a 9 percent sales increase in December, and Guess, which posted a 9.9 percent gain in its same-store sales. Additionally, online sales sizzled in December.
Thomson Financial's Same-Store Sales Estimate Index, which tracks data from 56 retail chains, projects that overall sales are expected to have increased 3 percent in December, based on analysts' consensus estimates.
But excluding Wal-Mart, sales are forecast to rise a stronger 4.6 percent. That compares with an overall increase of 3.3 percent last December including Wal-Mart and 4.1 percent sales growth excluding Wal-Mart.
According to the firm's data, 48 percent of 50 retailers that had already reported their sales results had missed their estimates, while 41.7 percent beat their same-store sales target.
The National Retail Federation forecasts holiday sales grew 5 percent to $457.4 billion this year, slower than last year's 6.1 percent increase.
Discounters pull ahead
December proved to be a stellar month for No. 1 wholesale club operator Costco (Charts). The company reported a 9 percent surge in its same-store sales versus analysts' expectations for a 5.6 percent increase.
The company attributed the healthy gains to strength in television and jewelry sales.
And Wal-Mart Stores (Charts), the world's largest retailer, posted a better than expected 1.6 percent same-store sales gain last month. The company had initially forecast December sales to rise 1 percent.
In November, Wal-Mart posted a 0.1 percent dip in sales, which marked only the second time since 1995 that Wal-Mart has reported negative sales.
In a statement, Wal-Mart said electronics and its grocery business, including pet supplies, household chemicals, paper goods, health and beauty, food and pharmacy, were the strongest performers last month.
But the company said warmer than normal temperatures led to softer sales of some winter seasonal items in clothing and the home division.
For January, Wal-Mart expects same-store sales to increase 1 to 2 percent. The company also reiterated its fourth-quarter and full-year profit guidance. Wal-Mart expects to earn a profit of 88 to 92 cents a share for the fourth quarter and $2.85 to $2.89 a share for its full fiscal year.
Analysts on average estimated the retailer to earn 90 cents a share in the quarter and $2.86 for the full year, according to First Call.
"December sales are a little bit softer than we had expected," said Ken Perkins, president of research firm Retail Metrics, adding that two-thirds of the 57 retailers he tracks in his index missed expectations.
"Overall, the 2006 holiday season was more subdued versus the previous year. But it's not over yet," he said. "January could play a bigger role for retailers because of people redeeming their holiday gift cards."
Online sales sparkle
Holiday-related online sales in November and December were $24.6 billion, up 26 percent from the same period a year ago, according to market research firm ComScore Networks.
ComScore initially had expected holiday sales on the Internet to grow 24 percent to $24.3 billion.
"2006 was certainly an exceptional year for online retailers as e-commerce spending eclipsed $100 billion for the first time," Gian Fulgoni, chairman of ComScore Networks, said in a statement.
"The online holiday shopping season of course played a vital role in the year's success, as spending accelerated during the final two months of the year, helping push total online retail spending over the $100 billion threshold," he added.
Robert Nardelli out at Home Depot
Online surprise: Penney, Sears gain on Amazon