NEW YORK (CNNMoney.com) -- Biotechs didn't do so well in 2006, but analysts are expecting a strong recovery for 2007, particularly for Big Biotech.
"We're looking forward to an economy that's softening a little bit," said Al Rauch, analyst for A.G. Edwards. "And if you look at the large-cap and profitable biotechs, they're defensive. The smaller and unprofitable biotechs [are] not so defensive. In a softening economy, investors run to safety, and safety means large and profitable."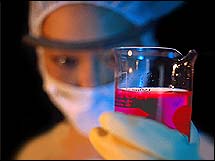 Analysts expect investors to run to the big biotechs like Amgen (down $0.25 to $71.02, Charts) and Genentech (down $0.57 to $84.12, Charts).
Amgen, the biggest biotech in the world in terms of sales, saw its shares drop 13 percent in 2006. But this year its earnings per share are expected to gain 12 percent, and its stock is expected to surge 27 percent, according to analyst consensus compiled by Thomson Financial.
Still, one risk to Amgen's stock is its patent battle to defend its anemia treatment Epogen, which exceeded $600 million in third-quarter sales. Epogen faces a potential threat from Roche's experimental anemia drug Micera, which is being reviewed by the Food and Drug Administration.
"I think the No. 1 thing that's weighing on Amgen's shares right now is its litigation with Roche regarding the potential launch of Micera," said Rauch of A.G. Edwards.
California-based Amgen has filed a patent infringement suit against the Swiss drug giant Roche to try and block Micera from entering the market. Roche recently announced that it was submitting additional data to the FDA. That will postpone Micera's review period by three months to May, giving Epogen that much more unchallenged time on the market.
"We believe this [delay] is a positive for Amgen, as it buys them more time and allows their infringement suit against Roche over their [Epogen] patents to progress to a later stage before [Micera's] potential approval," Bank of America analyst David Witzke wrote in a note published in December. Witzke is bullish on Amgen, setting a 12-month price target of $87 per share, from the current level of about $70.
"Micera will get approved and then Amgen will get an injunction [blocking Micera from the market,]" A.G. Edwards' Rauch predicts. "But I think this discussion about Micera has put pressure on the shares, and that's why it is trading below what we think it should be."
The year ahead also looks promising for the number two biotech, Genentech, which lost 12 percent of its stock value in 2006. According to the consensus forecast from Thomson, the stock price will rise 19 percent in 2007, with an EPS surge of 23 percent for the full year.
Future earnings for Genentech, the oldest biotech in the world, will be driven by sales for Avastin, its colon cancer drug, and Lucentis, a treatment for age-related vision loss, according to Michael King of Rodman & Renshaw. He has a 12-month price target of $87 per share for the company.
The California-based biotech took a beating from investors in 2006 because they were disappointed with Avastin's performance, according to King. But this year, he expects Avastin's rapidly growing use as a lung cancer treatment to help boost the drug's sales to $2.3 billion in 2007, from an estimated $1.7 billion in 2006. King also expects Lucentis, which was launched last year, to reach $870 million in 2007 sales. (Genentech has scheduled its fourth-quarter earnings announcement for Wednesday after the bell.)
"[Genentech stock] has underperformed in the last two quarters after the Street's disappointment with Avastin," wrote King, in a report published in December. Looking forward, he added, "We believe the strong sales of Avastin and Lucentis will reignite the shares."
Other biotechs fared better than their bigger counterparts last year, and are expected to continue to do well in 2007.
For instance, Celgene's (down $0.46 to $54.39, Charts) stock price gained 77 percent in 2006, and its price is expected to rise another 8 percent this year, with an annual EPS gain of 105 percent.
The Summit, N.J.-based Celgene will continue to be driven by strong sales of Revlimid, one of its treatments for multiple myeloma, according to Rodman & Renshaw analyst King. In a note published in December, King projected that Revlimid sales will nearly triple in 2007, to $967 million from an estimated $334 million in 2006. Last month, he raised his 12-month price target for Celgene to $64 per share, substantially higher than its current level of about $57.
Gilead Sciences (down $0.23 to $64.78, Charts), a biotech based in Foster City, Calif., was another strong performer in 2006; its shares rose 23 percent in 2006. And the Thomson analyst consensus predicts that its stock price will gain another 14 percent in 2007 and its EPS will jump 8 percent.
Gilead, which specializes in drugs for viruses including human immunodeficiency (HIV), reported on Dec. 19 that a late-stage test of its experimental inhalant to treat cystic fibrosis was successful. While this news is positive for the company, Jim Reddoch of Friedman, Billings, Ramsey projects that the drug won't top $100 million in annual sales until 2008, assuming it is approved by the FDA.
HIV drugs will continue to be the biggest earner for Gilead, according to Reddoch, especially with the FDA's approval in 2006 of Atripla, a once-a-day combination drug from Gilead, Merck and Bristol-Myers Squibb (down $0.18 to $26.03, Charts). Reddoch projects that annual Atripla sales will exceed $1 billion in 2008 and surpass $2.5 billion by 2010.
But those HIV drug revenues won't necessarily come easily, wrote Reddoch, in a note published in December.
"The HIV anti-retroviral market is highly competitive, and Gilead's HIV franchise growth over the long term is dependent on its ability to take market share from existing competitors such as Glaxo's Combivir," wrote Reddoch. "Gilead's top-line and EPS growth could be negatively impacted if its market penetration is slower than expected."
While investors drive up Big Biotech stocks, Big Pharma companies like Merck (up $0.11 to $43.99, Charts) and Pfizer (down $0.04 to $26.13, Charts) are expected to drive the shares of smaller biotechs, gobbling them up in search of the next blockbuster drug.
"They need to fill up their pipelines," said A.G. Edwards analyst Rauch, "and they're looking for products."
The analysts quoted in this story do not own shares of stock in the companies they discussed, though Bank of America and A.G. Edwards makes a market in Amgen, and Rodman & Renshaw makes a market in Celgene.
Biotechs surge ahead of stem cell vote