NEW YORK (CNNMoney.com) -- The House passed a Medicare bill Friday that could drive down drug prices and revenues for the nation's big drug companies, but that's assuming the bill gets past President Bush's threatened veto.
"I don't know how important the vote is, because the president says he'll veto it anyway," said Jon LeCroy, an analyst with Natexis Bleichroeder, shortly before the vote. "So it's more of a symbolic thing."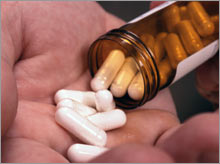 The House supported the bill, with a 255-170 tally. But the bill still has to pass by the Senate before - and the House vote falls short of the two-thirds majority needed to override the president's promised veto. Two dozen Republicans crossed the line to support the bill.
The bill would lift rules prohibiting the secretary of Health and Human Services from negotiating directly with drugmakers to get lower prices for prescription drugs covered by Medicare.
If this happens, drug industry revenues could be driven down 2 or 3 percent overall, said LeCroy.
Sales of certain drugs could take a hit of more than 10 percent in a worst-case scenario, he added. This includes Pfizer's (up $0.28 to $26.74, Charts) cholesterol-cutting Lipitor, the world's top-selling drug with $12.2 billion in 2005 sales, and Merck's (up $0.57 to $44.83, Charts) osteoporosis treatment Fosamax, which totaled $3.2 billion in 2005 sales.
Les Funtleyder, analyst for Miller Tabak, said that if the bill becomes law it might also drive down prices for diabetes drugs, affecting Pfizer and Merck, as well as Bristol-Myers Squibb (down $0.21 to $26.33, Charts), Eli Lilly & Co., (up $0.32 to $52.55, Charts) GlaxoSmithKline (up $0.62 to $53.69, Charts), Novartis (up $0.20 to $58.20, Charts), AstraZeneca and Amylin, to name a few.
The bill is one of the top Congressional goals of Speaker Nancy Pelosi, Democrat from California.
But analysts said they were skeptical that the Democrats will succeed in making the bill into law, largely because of the president's promise to kill the bill if it appears on his desk.
"You bet [Bush] will, if it gets that far," said White House spokesman Tony Fratto, referring to the President's plans to veto. Fratto told CNNMoney.com that the White House does not want Health and Human Services "interfering" in negotiations between insurers and drug companies.
But that's not how Pelosi sees it. In a written statement on her Web site, the Speaker said the current Medicare system "has failed to slow the rapid growth in drug prices," and that the HHS secretary's "wealth of expertise" would help push down drug prices if he is given the power to negotiate.
The analysts interviewed for this story do not own shares of stock in companies mentioned here.
Big Pharma trounces biotech in 2006
Afraid of the dentist's drill? Try a laser.