NEW YORK (CNNMoney.com) -- With many franchisors capitalizing on the convenience trend, you can find services that help you do everything from cooking, cleaning, day care and even teaching your kids some shortcuts to get ahead in their toughest classes.
One of the latest such franchises, Math Monkey, aims to teach kids, aged six to 12, concepts based on the principles of Vedic math.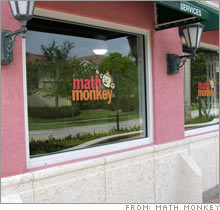 "Vedic Mathematics" is based on an ancient Indian system of mathematics, which was rediscovered in the early 1900s.
The Vedic math system of calculation allows problems to be solved without calculators, pencil or paper, based on sixteen formulas.
"It's a way of looking at numbers and thinking about numbers that really illuminates the entire system of mathematics," said Kirsten Fisch, president and CEO of Math Monkey.
Fisch, who has a background in early childhood education, founded Math Monkey Knowledge Centers in September 2005.
Now Math Monkey, which claims to be the only supplemental education franchise dedicated to teaching kids Vedic math, is becoming increasingly popular.
Since the business model started to franchise in the summer of 2006, there are currently about 20 franchises in Florida, Georgia, Missouri and California, but they hope to get up to 300 locations by the end of 2009.
Fisch insists that Vedic is not a new trendy way of teaching math. "Math is everywhere, it's in everything we do," she said. "I don't think there is anything trendy in that."
But with all the hype surrounding Vedic lately, one can't help but wonder if the buzz might soon fade.
When a fad fades
Other franchises that have sought to capitalize on a single trend have had mixed results in the long run.
Of course few franchises last forever. Singer Sewing Machine, Super Value Stores and the Schwinn Bicycle franchises all enjoyed a prolonged heyday before closing their doors and becoming relics of another era.
"As the economy has changed and we have increasing numbers of working parents, you've got issues related to childcare. And clearly that's a phenomenon," said Matthew Shay, president of the International Franchise Association.
The rise of convenience-based franchises fills a need for consumers. "We've gotten accustomed to immediate gratification," Shay said.
And the increasing number of learning centers reflects the pressure on the marketplace to deliver solutions, he added.
In the long run, if a business succeeds in making life easier for you, then it has a good chance on success, according to Lori Kiser-Block, the president of FranChoice, a franchise consulting firm.
"Convenience is hot," she says.
But for those looking to invest in a franchise opportunity, a solid business plan and financial stability is more important than a hot new concept, Kiser-Block warns.
A successful franchisor must be able to re-invent the business model to stay current. For example, some of the more successful franchises in the once-hot tanning segment have evolved into spa services, which are more of the moment.
"Those franchisors figured out a way to stay in touch with their customers," Kiser-Block said.
Six ways to keep your business alive
Long hours, no vacations - you're not alone