NEW YORK (CNNMoney.com) -- The British drugmaker GlaxoSmithKline fired a shot over Merck's bow on Thursday, by launching a study comparing its own experimental vaccine for cervical cancer to Merck's Gardasil.
Merck's (up $0.47 to $45.48, Charts) Gardasil is the first vaccine for the high mortality cervical cancer and one of the company's most impressive potential blockbusters, with analyst estimates for annual sales ranging up to $4 billion. Since Gardasil was approved by the Food and Drug Administration in June, 2006, Merck has been producing the vaccine in a competition-free marketplace.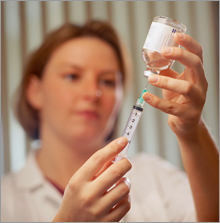 Glaxo's (up $0.58 to $55.81, Charts) Cervarix is not yet on the market, but in a best-case scenario, it could be in pharmacies by the end of the year. The vaccine is undergoing late-stage testing in more than 35,000 patients in 25 countries, the company said. Glaxo plans to file the vaccine with the FDA by April, 2007.
Gbola Amusa, analyst for Sanford C. Bernstein, said Glaxo's head-to-head study is a smart move for the company, because strong data shown in past Cervarix studies suggests that it should at least be equal to Gardasil in effectiveness.
Both of these vaccines are for the inoculation of girls and women against human papillomavirus, which causes cervical cancer. The American Cancer Society projects that 11,150 women will be diagnosed with cervical cancer in the U.S., and 3,670 women will die from this disease. But Gardasil has been found 100 percent effective in preventing the strains of HPV that are responsible for 70 percent of cervical cancer cases.
Both vaccines are considered potential blockbusters by analysts, though Merck has an advantage in getting its vaccine on the market first. Amusa projects that Gardasil sales will lead Cervarix by $1 billion annually, primarily because Merck beat Glaxo to the market. Amusa considers his annual sales estimates - of $2.5 billion for Gardasil and $1.5 billion for Cervarix - to be conservative compared to other analysts.
Some medical experts believe the vaccines are most effective in the inoculation of young girls before they become sexually active. Gardasil has been approved for girls and women ages 9 to 26. Early on in Gardasil's history, the use of the vaccine in young girls attracted the ire of some religious groups, but Merck was able to win them over by convincing them of the vaccine's medical benefits.
Glaxo is testing, or has tested, Cervarix in girls and women aged 10 to 45.
Merck's Gardasil - and the diabetes drug Januvia which was FDA-approved in October, 2006 - are largely responsible for a turn-around in how investors view Merck. The company's stock price soared nearly 40 percent in 2006, suggesting that Merck may have left behind the bad association surrounding its withdrawn painkiller Vioxx in 2004, which has since resulted in more than 27,000 lawsuits filed against the company.
Merck is the fourth-largest U.S. drug company in terms of sales, behind Pfizer (up $0.32 to $27.21, Charts), Johnson & Johnson (up $0.80 to $67.67, Charts) and Abbott Laboratories (up $1.08 to $52.63, Charts). Bristol-Myers Squibb (down $0.18 to $26.69, Charts) is the fifth-largest American drugmaker.
Amusa does not own shares of stock in Glaxo or Merck, but Bernstein has conducted non-investment banking-securities services for those companies in the last 12 months.
Big Pharma's drug wish list for 2007
Big Pharma trounces biotech in 2006