NEW YORK (CNNMoney.com) -- The state of Illinois is hoping to attract investors to pay as much as $10 billion in a jackpot bid for its lottery system, according to a newspaper report.
The sale of the system is likely to be one of the biggest privatizations of a state-run program and may occur as soon as the spring, The New York Times reported.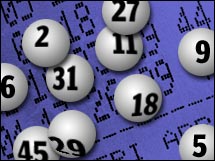 Illinois will receive a multibillion dollar one-time payment as the sale is expected to raise more than $1 billion with annual payments of $200 million, the Times said.
"Gambling is getting so competitive around the world that we're worried our revenues could go down unless there is retail expertise," John Flilan, chief operating officer of Illinois, said to the paper. "This is fundamentally a retail business and governments are not equipped to manage retail business."
Last year, the lottery collected revenue of nearly $2 billion and profits around $630 million. The new owner would receive all revenue and profit for 75 year, the Times said.
Goldman Sachs (Charts) and UBS (Charts) are advising the dealing, according to the paper.
Indiana, which recently earned billions of dollars from signing a long term lease for its toll road system, is also considering the sale of its lottery program, the paper said.
Chandlers, billionaires battle for Trib