NEW YORK (CNNMoney.com) -- Home Depot's new chief executive Frank Blake could receive up to $8.9 million in compensation this year, according to a company filing with the Securities and Exchange Commission.
The compensation package, about 90 percent of which is tied to the performance of the home improvement retailer, does not include severance benefits.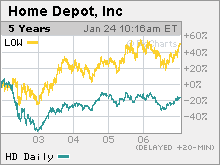 Blake took over the helm at the Home Depot earlier this month, replacing Bob Nardelli, who left amid shareholder criticism over his pay and the company's stagnant stock price.
Blake will receive an annual base salary of $975,000. If Home Depot and Blake meet certain performance targets, he is eligible for a cash bonus of three times his base salary, according to the filing.
The package also grants the new CEO $5 million in stock depending on the performance of Home Depot's stock and total shareholder return.
"These awards are designed to incentivize Mr. Blake to drive sustainable returns and to remain with the Company as CEO for the long-term," the filing said.
Blake's agreement does not provide for severance benefits, a marked contrast from the $210 million exit package granted to Nardelli.
That departure package outraged some shareholders, given Home Depot's performance under his leadership.
Under Nardelli, who joined the company in 2000, Home Depot's (Charts) shares have underperformed smaller rival Lowe's (Charts).
Separately, Lowe's said Wednesday it plans to open three to five stores in Mexico in 2009. Each store will represent an investment of about $18 to $20 million, the company said.
---
. :