NEW YORK (CNNMoney.com) -- Super Bowl XLI is expected to generate a buying frenzy for high-definition, flat-panel televisions, with an estimated 2.5 million consumers saying they plan to purchase an HDTV before the big game Feb. 4, a retail industry group said Wednesday.
The National Retail Federation (NRF), the industry's biggest trade group, citing a recent survey by market research firm BigResearch, said the total number of consumers who intend to shop for an HDTV in the days ahead is well above the 1.7 million who said they planned to upgrade to an HDTV at the same time last year.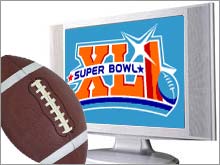 "The interest in this year's Super Bowl is higher than in many other years, so retailers have an opportunity to win big with sales of electronics, team apparel, and food," Phil Rist, vice president of strategy at BIGresearch, said in the report.
"As the price of flat-screen televisions continues to decrease, they are becoming more affordable for average consumers, which is contributing to an increase in TV sales."
However, while the demand for HDTVs before Super Bowl is expected to be higher than last year, some industry analysts say consumers shouldn't expect the discounts to be nearly as juicy as the blowout promotions that retailers like Wal-Mart (Charts), Best Buy (Charts) and Circuit City (Charts) offered on flat-panel televisions during the recently completed holiday shopping season. (Full story)
The survey also found that more people plan on throwing a Super Bowl party this year than last, 12.8 percent versus 9.8 percent. Additionally, 9.2 million people plan to watch the game from a restaurant or bar.
The average Super Bowl "budget" also looks healthier than last year, with consumers planning to spend about $56.04 on Super Bowl-related merchandise and food and beverage, up from last year's $36.78.
Additionally, the report said 1.3 million consumers intended to buy new furniture, including new home entertainment centers, just for the game. Total spending on the day of the event is expected to reach $8.7 billion, the report said.
Though many consumers said they find the game to be the most important part of the Super Bowl (32.1 percent), more than 18 percent, or about 40 million consumers, said commercials are the most important element, the report said.
---
The Web, camera and texting in fitting room
Retailers punt Super Bowl TV discounts
K-Fed spot fires up burger flippers