NEW YORK (CNNMoney.com) -- CBS was supposed to be the boring investment once it became a standalone public company a year ago.
When CBS (Charts) split from former parent Viacom (Charts), CBS Chief Executive Officer Leslie Moonves was faced with the challenge of boosting sales and profit growth at the stodgy broadcaster. Some investors were cautious.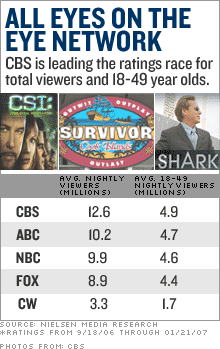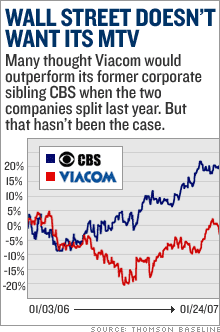 But CBS, which owns the CBS TV network, a big radio and outdoor advertising business and book publisher Simon & Schuster, has outshined the flashier Viacom on Wall Street.
CBS's stock has gained more than 20 percent since the separation, while shares of Viacom, which owns cable networks MTV and Nickelodeon and movie studio Paramount, has fallen 4 percent.
In an attempt to shed some of its slower growth businesses, CBS sold 39 of its radio stations in smaller markets. It also sold its Paramount Parks division to Cedar Fair for $1.24 billion in cash. Some think Simon & Schuster, the company's book publishing division, could be another possible asset sale.
On the TV side, CBS has continued to lead the overall ratings race, thanks to shows like "CSI," "Criminal Minds," and "60 Minutes." Even though many of CBS's most popular shows seem to aim at an older audience, the network is also leading the ratings battle for 18-49 year-old viewers, the market that advertisers care most about.
And come February, CBS will definitely see a boost in ratings when it broadcasts Super Bowl XLI. So can CBS stay on top with viewers and with investors?
Football sacks "American Idol"
The competition for CBS will get tougher this time of the year now that the popular "American Idol" series on News Corp.'s (Charts) Fox has returned.
"We'll see Fox get a boost with the new season of 'American Idol'," Joe Bonner said, an analyst from Argus Research Corp.
However, CBS's broadcast of the American Football Conference championship game between the Indianapolis Colts and the New England Patriots on January 21 dominated the ratings. It actually beat the season premiere of "Idol," according to Nielsen Media Research.
The AFC championship averaged 46.7 million viewers, while 37.4 million viewers tuned into Tuesday's "Idol" and 36.9 million viewers watched Wednesday's "Idol."
That appears to set the stage for strong ratings for Super Bowl XLI. And, of course, as the game draws near, viewers are also highly anticipating commercials slated to air during the breaks, which CBS is said to be charging a record price for this year.
There has been a lot of buzz that the company is charging as much as $2.6 million for a 30-second spot, slightly higher than the $2.5 million Walt Disney (Charts)-owned ABC charged last year. So the Super Bowl stands to be a big financial success for the company.
Looking beyond TV
Still, even though the company has benefited from solid performance in its TV business, the company has also been making extensive efforts to expand in other aspects of the media world.
CBS is starting to focus less on television because it's an industry where growth is slowing, Bonner said.
To that end, when CBS reports fourth-quarter earnings at the end of February, analysts expect the company to see gains fueled not just by TV but also from its billboard advertising business, CBS Outdoor.
Last quarter, the company reported operating income rose 4 percent to $646 million mainly led by its television division and CBS Outdoor, which posted a 34 percent increase in profits.
Billboards may not sound as glamorous, but outdoor advertising is actually one of the more lucrative areas of the media business - thanks to new technology.
"We expect CBS Outdoor will remain a strong growth engine for the company," Frederick Moran, analyst of Stanford Financial group, said. "The migration of billboards from plaster to digital capabilities has helped. Now [digital billboards] are able to scroll to more advertisers and capture a larger consumer audience."
Aside from CBS Outdoor, CBS has also expanded its presence on the Internet.
The network recently struck a partnership with Google Inc.'s (Charts) popular YouTube online video site. CBS also offers a variation of news, live and archived sports programs, and network TV shows on the Web, including its broadband channel "Innertube."
There have also been reports that Google is discussing a possible agreement with CBS that would include brokering TV and radio advertisements.
CBS is even taking a stab at becoming a top record label again. In December, the company relaunched CBS Records. (The original CBS Records was sold to Sony in 1988.)
David Joyce, analyst with Miller Tabak & Co., LLC. thinks this won't have a major impact on the company any time soon since the music industry is highly competitive. But some think CBS could be making a good move because they will not have to pay music fees to use songs in their TV shows, which all networks are charged for.
Is the Eye worth a buy?
Few predicted that CBS would be such a hit on Wall Street after its split from Viacom.
And to be sure, CBS is still not as compelling a growth story as many of its media peers. Earnings are expected to increase 9 percent this year while Disney and News Corp. are expected to report profit increases of 14 percent and 19 percent respectively. Viacom also has a higher projected growth rate, with analysts predicting a 15 percent increase in profits this year.
Although the broadcaster's sales and earnings growth is expected to be a bit slower than its top media competitors, analysts think this is already reflected in the stock price.
CBS is trading at 17 times estimated earnings for 2007, a lower valuation than its peers Disney and Time Warner (Charts), which both have a price-to-earnings of 20 times earnings. (Time Warner owns CNNMoney.com.) CBS also trades at a slight discount to Viacom and News Corp.
And many analysts still think CBS is a very solid, stable and low risk stock.
"We think it will provide a reliable return for investors over time," said Moran, adding that the stock pays a dividend that yields 2.5 percent.
So even though CBS may not generate as much growth as some of its more exciting media peers, the stock still looks like a good bargain.
None of the analysts quoted in this story own shares of CBS. None of the firms have an investment banking relationship with the company.