NEW YORK (CNNMoney.com) -- Seekers of eternal youth get collagen injections every few months, but the newly public company Artes Medical has a longer-lasting wrinkle remover in the works.
Artes Medical (up $0.42 to $9.52, Charts), a San Diego company that went public in December, wants the Food and Drug Administration to approve its dermal filler as a five-year treatment. That's 10 times longer than its current approval for six months, the same authorized duration as dermal fillers Juvederm by Allergan (up $0.00 to $116.71, Charts) and Restylane from Medicis Pharmaceutical (up $0.00 to $37.93, Charts).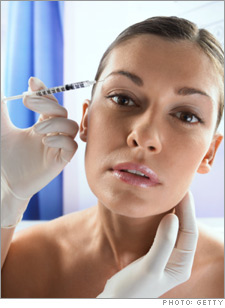 Allergan, based in Irvine, Calif., and Medicis, based in Scottsdale, Ariz., dominate the market for dermal fillers, which is $250 million in the United States and $500 million worldwide. Allergan also produces another type of wrinkle remover, the $800 million injectable toxin Botox, which works by temporarily paralyzing facial muscles.
Medicis is currently awaiting an FDA decision on Reloxin, another muscle-paralyzer that would compete directly with Botox.
Artes Medical chief executive Diane Goostree hopes that her long-lasting product will have a competitive edge over the current market leaders. Goostree said she will unveil five-year study results for her dermal filler Thursday at the meeting of the American Academy of Dermatology in Washington.
She plans to submit that data to the FDA in March to try and get ArteFill approved as a five-year product.
"[ArteFill is] really a breakthrough product in the market for dermal fillers," said Goostree. "No one has clinical data showing that they have approved wrinkle correction going beyond six months."
Dermal fillers smooth out facial wrinkles with injections of collagen, a naturally occurring substance. The injected collagen fades away after a few months, requiring fresh injections to keep the wrinkles smooth.
A little polymer thrown in
But ArteFill is different from the competition because the gel-like substance is four-fifths collagen and one-fifth synthetic polymer fibers, according to Goostree. The synthetic fibers are half the width of a human hair, "feel like Vaseline," and maintain their structure as a "living implant" after the injected collagen fades, said Goostree.
"We are not claiming that the wrinkle correction effect is permanent," said Goostree. "We are saying that the microspheres [that make up the polymer] are believed to be permanent in the body and that we have data showing that the wrinkle correction lasts five years."
Jose Haresco, analyst for Merriman Curhan Ford & Co. said ArteFill is for those consumers who don't continue going back for dermal filler injections because of "needle fatigue" and "credit card fatigue."
"[ArteFill] is for that subset of the population that doesn't want to get injected in the face every few months," said Haresco. "[ArteFill] is really the cheaper way to go. Medicis and Allergan are a little bit afraid of it, and they have a right to be."
But others aren't so sure about ArteFill's competitive clout. Some analysts believe that that the product's five-year longevity might scare customers away. The length of duration could use some tweaking, they say.
"Most of the dermatologists want something that lasts longer than six months, but not something that lasts five years," said Aaron Gal, analyst for Sanford C. Bernstein. "The sweet spot seems to be one or two years. The problem with fillers that last longer, is that our faces change over time."
The answer might be California-based BioForm Medical, a privately held company with a dermal filler that can last at least nine months, said Ken Trbovich, analyst for RBC Capital Markets. BioForm's dermal filler Radiesse contains synthetic particles that can maintain the wrinkle-removing structure of an injection after the collagen fades.
"There's a leap of faith [to long-lasting dermal fillers] that some people aren't going to be able to make immediately," said Ken Trbovich, analyst for RBC Capital Markets. "BioForm would be the step in between. I think people are more easily convinced to take the evolutionary step rather than the revolutionary."
BioForm licenses its dermal filler technology from Artes Medical.
Isolagen (up $0.00 to $2.92, Charts), a Pennsylvania-based company headed by industry veteran Nicholas Teti, is developing yet another type of wrinkle remover. The Isolagen product, which is currently in late-stage testing and not yet on the market, would work by manipulating the body's own skin cells.
The analysts quoted in this story do not own shares of company stocks mentioned here, but Merriman Curhan Ford might make a market in them.
Sanofi merger could give Bristol a boost
Pfizer to cut 10,000 jobs, shut five plants