NEW YORK (CNNMoney.com) -- The Federal Reserve held a key interest rate steady Wednesday and signaled that the economy's stabilized despite the housing slump and that inflation has abated.
Investors applauded the news, driving blue-chip stocks into record territory, since it now looks like the Fed won't need to cut rates to stimulate the economy - or raise them to ward off an oil-driven burst of inflation.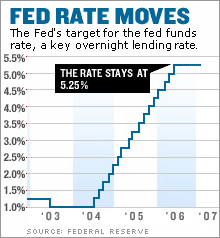 The central bank left its target for the federal funds rate, an overnight bank lending rate that affects rates on various types of loans, at 5.25 percent. It was the fifth straight time the Fed has held steady, a move that was widely expected on Wall Street.
Energy prices have fallen in recent months, leading some economists to think that inflation is no longer as big of a concern for Fed Chairman Ben Bernanke and other policy-makers. There also have been some signs the housing market is stabilizing, which could mean the economy won't slow as much in 2007 as some had initially feared.
In fact, the Fed's decision came just a few hours after the government reported that economic growth in the fourth quarter was higher than expected and that inflation pressures had eased.
The Fed indicated as much in its closely watched statement Wednesday.
"Recent indicators have suggested somewhat firmer economic growth, and some tentative signs of stabilization have appeared in the housing market," the Fed said, adding that the economy "seems likely to expand at a moderate pace over coming quarters."
The Fed also said that "readings on core inflation have improved modestly in recent months," and that "inflation pressures seem likely to moderate over time."
With that in mind, there is a growing sense on Wall Street that the Fed may leave the fed funds rate at 5.25 percent for the next few months, and possibly through all of 2007 - a conviction that sparked a powerful rally on Wall Street.
"I feel like the Fed is going to be on hold. I think they'll probably do nothing for the whole year," said Stephen Cooke, director of credit research with SMH Capital Advisors, a Fort Worth, Texas, firm that invests mainly in high-yield bonds.
Investors cheered the news. Stocks, which were mixed prior to the announcement, headed higher following the Fed's decision, pushing the Dow industrials up more than 100 points, and into record territory, in late afternoon trading.
Bonds also rallied as investors bet rates wouldn't head higher, pushing the yield on the benchmark 10-year Treasury note down to 4.82 percent from 4.88 percent late Wednesday. Bond prices and yields move in opposite directions.
"We've substituted more growth with less inflation and that's a good news event for the financial markets," said Michael Strauss, chief economist with Commonfund, a money management firm based in Wilton, Conn. "The Fed recognized that the inflation situation is getting a little better."
The vote for no change in interest rates was unanimous for the first time since the Fed first paused in August after raising rates seventeen straight times from June 2004 through June of last year.
But investors shouldn't read too much into the unanimous vote since Richmond Federal Reserve president Jeffrey Lacker, who had voted for a rate hike at the past four meetings, is not a voting member of the Fed's policy committee this year.
Nonetheless, one bond fund manager said one reason the market greeted the Fed's statement so enthusiastically Wednesday is because it does appear that the central bank has less reason to be as worried about inflation going forward. In other words, fears of more rate hikes from the central bank have subsided.
"The Fed didn't really tell us anything that we didn't know. The economy is stronger and inflation is moderating. That's exactly what the numbers have been showing us the past few weeks. But the market had some lingering fear that the Fed would be more hawkish so there is a sense of relief," said Michael Cheah, a fixed-income portfolio manager with AIG SunAmerica Asset Management.
The Fed raises rates when it wants to slow the economy and dampen inflation and cuts rates when it wants to spur growth.
As such, SMH Capital's Cooke said that while the Fed probably won't raise rates again it's in no hurry to cut rates either since last year's real estate slowdown does not appear to be having a major negative effect on consumer spending.
"While the housing market was certainly weak and there's a zillion points of data about that, I don't think it got weak enough to hurt the economy that much," Cooke said.
In fact, one economist said that since the Fed acknowledged that there is less of a risk of a slowdown, investors still need to keep the possibility of another rate hike in the back of their minds.
Drew Matus, an economist with Lehman Brothers, noted that the Fed did not change its language about inflation that much in Wednesday's statement.
"It seems like overall the Fed is becoming more confident in the ability of the economy to grow at a stable pace. But the Fed doesn't think we are out of the woods yet on inflation and is still hawkish," Matus said.
Economy shows surprising strength
The Fed's pregnant pause