NEW YORK (CNNMoney.com) -- India's widely awaited move to open up its $300 billion consumer market to overseas retailers seems to have hit a speed bump, which regional experts say could bring more scrutiny of Wal-Mart's move into the world's second-most populous country.
Several Indian newspapers, including the Economic Times, reported Tuesday that Sonia Gandhi, president of the Congress Party, which heads India's coalition government, has asked Indian Prime Minister Manmohan Singh to reassess how further relaxing foreign direct investment rules could affect the country's family-owned retail businesses.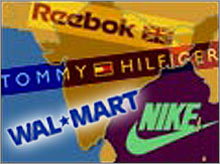 The government did relax some rules last year by allowing "single-brand" retailers such as Nike or Gucci to own 51 percent of their business operations in India. But this still precluded market entry to global merchants like Wal-Mart (Charts) that sell a variety of brands.
The debate over how big retailers like Wal-Mart can invest or operate in India boils down to this: Proponents say opening up the retail sector to outside investors is sorely needed to help India create more jobs, boost exports and improve its transportation and other infrastructure.
But opponents, mainly left-leaning parties who support but aren't part of the coalition government, argue it would hurt the economy and destroy jobs since about 97 percent of the Indian retail market is mom-and-pop businesses.
Until recently, the feeling among Indian bureaucrats and market experts had been that the government was moving toward liberalizing foreign direct investment in retailing.
But now, according to the Times report, opponents have stepped up their opposition to Wal-Mart's proposed joint venture with Bharti Enterprises, a diverse business empire led by India's wealthy Mittal family.
The paper said the government so far has successfully resisted pressure to re-evaluate Wal-Mart's deal with Bharti, under which Wal-Mart would provide support for a chain of nationwide stores.
Still, at least one analyst said the request by Gandhi may be nothing more than political posturing meant to try to give a lift to the Congress Party in upcoming state elections.
"This is the absolute paradox of India. On the one hand there's huge buzz about India's growth opportunity. But on the other hand, there are lot of poor people who's situation has not improved. And these people are also the main voting bank of politicians," said Love Goel, CEO of Growth Ventures Group, a global private equity firm that's focused on investment in the Indian retail sector.
A Wal-Mart spokeswoman said the chain is committed to establishing a presence in India quickly.
"It is important to note that whatever the final retail plans are, the front-end will be 100 percent owned and operated by Bharti," Wal-Mart spokeswoman Amy Wyatt said in an e-mail to CNNMoney.com. "These stores will be wholly owned by Bharti who will manage the entire front-end, including aspects such as branding," she said.
In line with what is permitted under existing guidelines, Wyatt said Wal-Mart will focus on the back-end supply chain management, giving Bharti access to "our knowledge in information systems, logistics and supply chain management."
India is already Wal-Mart's fastest growing sourcing market. More significantly, the world's largest retailer has identified India, the second most-populous nation and fourth largest retail market, as a huge growth opportunity, especially as its home market becomes increasingly saturated.
Meanwhile, Bharti spokesman Ashutosh Sharma told CNNMoney.com that the company was aware of media reports regarding a supposed letter from Gandhi to the prime minister. "We really don't have anything firm to say about it," he said.
Wal-Mart inked its venture with Bharti Enterprises last November, with plans to open several hundred stores around the country over the next five years. The stores will be owned by Bharti Enterprises but will be run jointly.
"Indians don't have to worry about foreign competition," said Goel at Growth Ventures.
"Indian entrepreneurs are far smarter than they are given credit for. But at the same time, I think the government does need to be careful with how it proceeds with (investment) reforms. I think the debate is worthwhile since it will affect the entire country and millions of consumers."
India's billion-dollar buyouts
Wireless Wonder: India's Sunil Mittal