(Business 2.0 Magazine) -- Companies are increasingly willing to seek outside help in dreaming up new products. Design firms like Ideo and Frog do that on a large scale; Johnson figured small-scale product design could be a smart complement to ad services, so he hired designers to work alongside the creatives.
That unusual step is already paying off: Last year Coke enlisted Anomaly's help in designing a bottle for its new Gold Peak iced teas, work usually reserved for Coke's internal product gurus.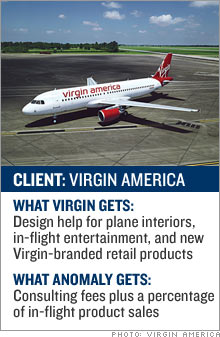 Then came Virgin America, which is merging Anomaly's ideas with its own on plane interiors, uniforms, and in-flight entertainment. Anomaly staffers have also acted as business-development specialists, partnering with designers like Jonathan Adler and Burton to create Virgin-branded suitcases, blankets, and pillows that passengers can purchase through the in-flight system when service starts this spring.
While Anomaly is also creating Virgin's ad campaign, it will get an additional cut of in-flight sales.
"I had no idea how involved they would get in the process," says Virgin's Kramer. "They're in it to share risk. They've become a business partner."
Back to main story.
____________________________________________
More from the latest issue of Business 2.0 Magazine:
101 Dumbest Moments in Business
A new Rx for the body: implantable devices
Cell-phone giants start courting coders

To send a letter to the editor about this story,
click here
.