NEW YORK (CNNMoney.com) -- The U.S. Mint will issue a dollar coin featuring the likeness of George Washington this Thursday, the first in the series of presidential coin dollars.
The coins, which will be the size, weight and metal composition of the Sacagawea $1 coin will feature the portraits of U.S. presidents in the order they served.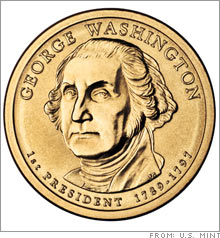 After Washington, the series will continue in 2007 with John Adams, Thomas Jefferson and James Madison, each with a different Statue of Liberty image on the reverse.
The mint will issue four presidential $1 coins per year through 2016. In 2008, four coins featuring the images of James Monroe, John Quincy Adams, Andrew Jackson and Martin Van Buren are scheduled to be released.
Gerald Ford is currently the last president on the release schedule. Under the Presidential Coin Act of 2005, none of the coins will bear the image of any living former or current President. Coins of deceased former presidents won't be made until two years following the date of death.
Each president will be honored with only one coin regardless of the number of consecutive terms they served. President Grover Cleveland, who served two non-consecutive terms, will be featured on two coins, however.
"Congress designed the Presidential $1 Coin program to build on the success of the 50 State Quarters Program and give Americans coins they will enjoy using and collecting over time," said U.S. Mint spokesperson, Carolyn Fields in an e-mail.
"At the same time, general use of the Presidential $1 Coins is expected to increase use of all dollar coins as Americans become more familiar with using them," Fields said
The Federal Reserve has ordered 300 million George Washington $1 Coins for its initial run.
The coin is composed of the same material as the Sacagawea coin: 88.5 percent copper, 6 percent zinc, 3.5 percent manganese and 2 percent nickel.
The Mint says that the coins are not meant to be a replacement of paper dollar bills. But there is a cost difference between paper and coin dollars, which can last longer in circulation.
A 2002 Government Accounting Office report released in 2002 concluded that if dollar coins replaced the paper dollar, the government would save $500 million annually.
--------------------------------------------------------------------------
New U.S. bills: blind justice?
Judge rules paper money unfair to blind
First Ladies to debut on new gold coin