NEW YORK (CNNMoney.com) -- This time last year, Kleiner Perkins Caufield & Byers gambled big. Amid all the headlines and hand-wringing over fears of a looming flu outbreak that could kill millions of people, the prominent venture capital firm formed a $200 million fund to invest in new pandemic drugs and vaccines.
As the KPCB Pandemic and Bio Defense Fund marks its first anniversary Friday, this much is clear: Investing in pandemic prevention is enormously risky, with the promise of mega-returns offset by the highly uncertain odds that a pandemic, despite the predictions, will sweep the world.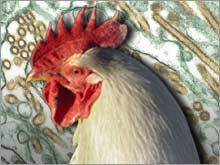 Kleiner Perkins won't disclose all of the companies that its fund has bankrolled, but at least two of them are publicly traded and offer a good look into just how stomach-churning pandemic investing can be.
One beneficiary of the Kleiner Perkins fund's largesse, BioCryst (down $0.16 to $10.92, Charts), is developing an anti-viral medication, known as peramivir, that's seen as the most promising future treatment for avian flu. Even so, BioCryst saw its stock price plunge 30 percent in 2006. Shares have fallen another 6 percent this year.
Novavax (down $0.07 to $3.85, Charts), another vaccine maker and Kleiner Perkins gamble, has done somewhat better. Novavax shares posted a 6 percent price gain in 2006, but still underperformed the S&P 500 by 7 percent.
Shares in three more biotechs that are developing bird flu medication - Avi BioPharma, Iomai (Charts), and Vical Incorp. - have also dropped. Indeed, only one publicly-traded biotech in this sector outperformed the S&P 500 in 2006: Peregrine Pharmaceuticals, an anti-viral maker based in Tustin, Calif.
What's giving investors the chills? Analysts say it's the queasiness over whether a pandemic outbreak will happen or, much like the widely-predicted Y2K computer meltdown, will prove to be much ado about nothing.
The likelihood of a pandemic flu "is anyone's guess," said Katherine Kim, analyst for C.E. Unterberg, Towbin. "It's not something you can predict."
So far, the bird flu strain H5N1, which has decimated poultry in parts of Asia and Europe and killed approximately 160 people, has not reached the United States. Some experts fear that the flu could mutate into a form that transmits from human to human and, in a worst-case scenario, kills tens of millions like the last worldwide pandemic in 1918.
Robert Webster of St. Jude Children's Research Hospital in Memphis, one of the world's leading experts on infectious diseases, has said there's a 50 percent chance that avian flu could jump to humans.
For now, the bigger winner in the pandemic pandemonium has been Roche Holding, which markets Tamiflu, the only influenza treatment approved by the Food & Drug Administration. As governments around the world have raced to stockpile Tamiflu, supplies continually run short. Roche shares have more than tripled since 2003.
But Roche may soon be facing stiff competition. BioCryst, one of the Kleiner Perkins investments, won in January a $102 million contract from the U.S. Department of Health and Human Services to fund development of peramivir.
The European drug giants GlaxoSmithKline (up $1.02 to $58.29, Charts) and Novartis (up $0.85 to $59.52, Charts) also received government contracts last month, totaling more than $100 million, to develop ways for the government to expand vaccine supplies.
The French drugmaker Sanofi-Aventis (up $0.23 to $43.63, Charts), also a contract recipient, could be the first to hit the U.S. market with a bird flu vaccine. An FDA advisory panel is expected to review the experimental vaccine on Feb. 27.
Running on contracts
But public funding alone is no guarantee of success, which explains why BioCryst's shares fell even after it won the $104 million government contract.
"A good business does not run on government contracts alone," cautioned Ken Trbovich, analyst for RBC Capital Markets, who covers the vaccine maker Novavax.
Trbovich said that the industry for seasonal flu vaccines is growing more crowded with competitors, making it difficult for small companies to succeed no matter how advanced their technology. He said the pandemic industry's success relies too heavily on the government and the need, however macabre it may sound, for a fatal outbreak to generate sales.
"If the pandemic never hits, you never see tens of millions of doses being produced," said Trbovich.
Not everyone, however, thinks the prospect of a worldwide killer flu is in doubt.
"We believe that the pandemic flu is [coming]," said Navdeep Jaikaria, analyst for Rodman & Renshaw. "It's a real risk, given the fact that there is a large reservoir of the [bird flu] virus in China and other parts of the world and the world is a smaller place than it used to be with all the global travel."
Like Kleiner Perkins, Jaikaria is betting on vaccine maker Novavax. Jaikaria said that Novavax and the biotech Vical are developing DNA-based methods of vaccine production that make them well-poised to respond to an outbreak, because they can produce doses quickly in portable vats without relying on traditional egg-based cultures.
"I think the threat is real enough and the consequences are real enough, and the cost of vaccines is cheaper than what we would want to do otherwise," said Jaikaria. "There will be commercial opportunities, other than the government."
The analysts quoted in this story do not own shares of company stocks mentioned here, though RBC makes a market in Novavax and conducted securities services for the company within the last 12 months, and Rodman & Renshaw has conducted banking transactions for Novavax and Vical.
Iomai CEO: patch could boost bird flu vaccine