(Business 2.0 Magazine) -- Solar startups are so 2006.
This year the cutting edge of alternative energy will be selling consumers on a clean technology previously used only at an industrial level: wind power. A dozen U.S. companies are set to offer turbines that can be placed in users' yards to cut their energy bills.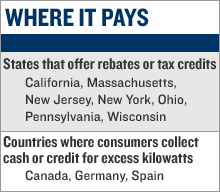 That's good news for Andy Kruse, founder of Southwest Windpower, based in Flagstaff, Ariz.
Kruse raised $10 million in financing and teamed up with scientists at the National Renewable Energy Lab to create the Skystream 3.7, a sleek 33-foot turbine with 6-foot blades that can work at wind speeds as low as 9 mph (and provide as much as 80 percent of the average household's electricity).
Skystreams cost up to $13,000 a pop, but Kruse shipped 150 of them during the first two months of production. "Everybody in the world has just woken up" to wind power, Kruse says, projecting global revenue of $24 million for 2007. "We had to turn down countless investors."
Right now, startups like Kruse's are targeting wealthy consumers who live on big plots of land - the 13 million Americans with half an acre or more.
But that could change fast in the likely event that the new Congress passes a bipartisan bill providing a tax credit equivalent to 30 percent of the cost of a wind user's turbine. (Some states already offer rebates.) Consumers can also sell their excess power to utilities such as Xcel Energy.
VCs are starting to get excited too.
Peter Edwards, a partner at Altira Group, an investor in Southwest, sees opportunities for dealers, installers, and makers of efficient batteries that can hold excess wind energy for a couple of days. "In the world of the future," he says, "it will be just as easy to buy a wind turbine as an air-conditioning unit."
____________________________________________
More from the latest issue of Business 2.0 Magazine:
101 Dumbest Moments in Business
A new Rx for the body: implantable devices
Cell-phone giants start courting coders

To send a letter to the editor about this story,
click here
.