NEW YORK (CNNMoney.com) -- As the Dow Jones industrial average suffered its biggest one-day point loss in 5-1/2 years Tuesday afternoon, traders were blind to the severity of the fall due to technical problems.
Dow Jones (Charts) said that for about an hour it experienced difficulty with its system for reporting the industrial average's activity.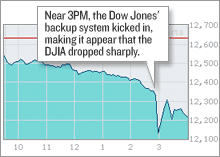 "Around 2:00 pm today the market's extraordinarily heavy trading volume caused a delay in the Dow Jones data systems and as a result, the calculation of the Dow Jones Industrial Average temporarily lagged behind the market decline and as we identified the problem we decided to switch over to a back-up system and the result was a rapid catch-up in the published value of the Dow Jones Industrial Average," explained a Dow Jones spokeswoman.
When the back up system was activated around 3:00 pm, the delay was eliminated and the numbers on the big board caught up immediately with market activity.
At 3:02 pm, the Dow reflected a 160-point drop. Over the course of several minutes the blue chip barometer sank over 300 points as traders reacted to the newly available data.
"The drop lag that occurred in a minute should should have happened over a period of 20, 30 or 40 minutes," the spokeswoman said.
However, "investment products like futures contracts, exchange rate funds or mutual funds that use the index as an underline were not affected," the spokeswoman noted.
Separately, the New York Stock Exchange (Charts) said intermittent systems problems disrupted some trading Tuesday afternoon.
"Trading towards the end of the day was interrupted due to an intermittent technical problem and that problem is being assessed as we speak," an NYSE spokesman said.
It is unclear whether the problems are related, the spokesman said.
The Dow tumbled 416 points by the closing bell, notching its worst point decline since September 17, 2001, the first trading day after the September 11th disaster. On that day, the Dow dropped 684 points.
Today's selloff: Buy, sell or hold?