NEW YORK (CNNMoney.com) -- Shares of General Motors fell sharply as it announced it would miss a deadline to report quarterly results and its primary supplier missed a self-imposed deadline to reach a new labor deal with its unions.
Shares of Dow component GM (Charts) were off as much as 3 percent immediately after the announcement of the problem.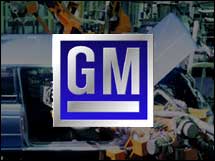 The company's shares gained ground in the afternoon after it reported an unexpected pickup in U.S. sales in February, having said only two days ago that it expected a dip in sales. But they quickly gave up this gain and were off by more than 1 percent by late afternoon.
In a filing with the Securities and Exchange Commission, GM said that it would not report the 10-K, which details its fourth-quarter results, by the March 1 SEC deadline and that it would file for the allowed two-week extension for that report. It said it does expect to file by the new March 16 deadline.
The delay comes as GM weighs accounting issues for some past deferred tax liabilities, derivative instrument accounting and hedging activities in past years that will likely lead to restatements. It also is waiting for final accounting of results of the GMAC finance unit. GM sold a 51 percent stake in the finance arm to a private equity group as of Nov. 30.
Analysts surveyed by earnings tracker First Call forecast that GM earned $1.19 a share in the fourth quarter, excluding special items, compared to a loss of $2.09 a share on that basis a year earlier.
"I think they'll come out clean with a large profit. But unless there was a large problem that couldn't be resolved, they wouldn't have delayed it, so it is a concern," said analyst David Healy of Burnham Securities. "My guess is they won't receive quite as much cash on closing [for GMAC] because of the conditions in the real estate market. But I don't think it's a huge thing."
Credit rating agency Standard & Poor's issued a statement Thursday that said it did not believe GM's ratings would be affected by the delayed filing because it is unlikely that any of its debt contained clauses that would penalize it for the delay. But S&P said it would have to look at lowering the credit ratings further into junk bond status if it appeared that GM would miss the March 16 deadline.
"At the moment we think it's just a lot of accounting complexity that they need to get right," said Bob Schulz, S&P's senior automotive credit analyst. "If it's more than that, we'll have to see what it is. We're not happy they missed the deadline."
Separately, bankrupt auto parts maker Delphi (Charts), a former unit of GM, announced late Wednesday that it had not been able to reach an agreement with GM and its unions by the end of February, as it had planned. That is serious because a group of private equity firms that have committed $3.4 billion in financing to the parts company had the right to pull out of the deal if there was no agreement by Feb. 28.
But Delphi announced that its investors had entered into an agreement with the investor group that extends their right to pull out of the investment deal to 14 days after giving notice.