NEW YORK (Reuters/CNNMoney.com) -- Treo smartphone maker Palm Inc. could bring a buyer a decade's worth of digital assistant design and mobile phone know-how, but at a hefty price for a company no longer viewed as cutting edge.
Shares of Palm (Charts) rose 11 percent on Friday to more than $18, their highest level in eight months, on renewed speculation that leading mobile phone maker Nokia (Charts) was eyeing the company.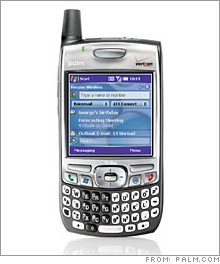 Palm is working with investment bankers Morgan Stanley to explore its strategic options, which could include a sale, a purchase or an investment by private equity, the Wall Street Journal reported Sunday.
One technology banker who spoke on condition of anonymity told Reuters Friday there was potential interest from both strategic and private equity buyers in bidding for Palm.
But the banker said the company's stock run-up made it more challenging for private equity to bid for the company versus strategic bidders, who have more opportunities to cut costs.
"The bigger issue is can you make the acquisition work strategically, grow the revenues and turn Palm into a better competitor," analyst Tavis McCourt of Morgan Keegan, & Co. told Reuters.
Shares of Palm have vaulted more than 25 percent this year, boosted by persistent rumors it is a takeover target. The rally has lifted Palm's market capitalization to about $1.7 billion, slightly more than total revenue in its last fiscal year, which ended in May 2006.
Palm has long been tossed around as a target. Speculation increased this week when technology news Web site Unstrung said Nokia or a private equity firm may be the leading candidates to buy Palm at around $20 a share, citing unnamed sources.
A Palm spokeswoman told Reuters the company does not comment on rumors or speculation and is focused on growing its business.
Motorola Inc. (Charts), the No. 2 handset maker, has also been mentioned as a potential buyer for Sunnyvale, Calif.-based Palm, which makes personal digital assistants as well as a line of mobile phones that keep track of appointments, data and e-mail.
Several analysts questioned why Nokia or Motorola would need Palm, suggesting computer makers like Hewlett-Packard Co. (Charts) or Dell Inc. (Charts) would be more attracted to Palm as a way to break into the market for wireless services, according to Reuters.
Smaller phone maker High Tech Computer Corp. of Taiwan could expand using the Palm brand, one analyst told Reuters.
CCS Insight analyst Ben Wood told Reuters that Palm's intellectual property would be attractive to a rival at the right price, but that the company's current share price was too high to spur bids from rivals.
"I don't see there's anybody right now who'd want to pay that much money to add that portfolio of devices to their own," Wood said.
Real value?
Experts contacted by Reuters were divided over which of Palm's assets - a well-known brand, access to its operating system or its relationship with carriers - attracted suitors.
They also debated whether any of those held real value as Palm has surrendered much of its "cool factor" to devices like Motorola's "Q" smartphone and the highly anticipated iPhone due in June from Apple Inc. (Charts)
"If you were to take the Treo and put it next to some the devices that have been launched, it looks like a brick," Gartner analyst Ken Dulaney told Reuters.
McCourt said Motorola may covet access to the operating system for its own line of smartphones, but suggested that private-equity players might frown on the need to consistently develop new products quickly.
Palm dominated the market for pocket-sized digital organizers, or PDAs, after it launched its original Palm Pilot in 1996. The company's PDA sales dwarfed those of rivals such as HP and Sony.
But PDA demand dwindled early in this decade as similar features were built into cheaper mobile phones. Palm's Treo, which combines a phone with its well-known PDA operating system, lets users surf the Web and exchange e-mail. It eventually became the company's signature product with shipments of 2.3 million units in the last fiscal year.
However, the basic design of Treo is now several years old - eons in a market where Nokia, Motorola, Samsung Electronics, and Sony Ericcson introduce multiple models and ship hundreds of millions annually.
Dulaney said Palm needs to either quickly come out with a new innovative product to replace its aging designs or put itself up for sale to a bigger company.
"This is the fashion business," Dulaney told Reuters. "Dresses don't last for two years. You have to have something new."
BlackBerry chief: iPhone no threat