NEW YORK (CNNMoney.com) -- Some owners of the recently released George Washington Presidential coins unwittingly got a little more bang for their buck - and they have God to thank.
Due to a glitch that still has federal officials befuddled, the U.S. Mint produced thousands of the new $1 coins without the "In God We Trust" inscription traditional on all its money.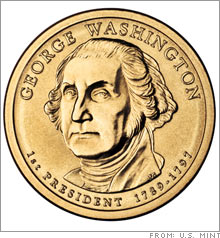 The coins also are missing the "E Pluribus Unum" inscription, as well as a mint mark indicating whether they were produced in Philadelphia or Denver. Also, the coins are missing edge inscriptions specially made for the new dollar.
Sharp-eyed consumers who spotted the glitch and had the good fortune to put the god-less coins up for sale on the Internet fetched hundreds of dollars for each coin. The going price was about $200 on eBay late Wednesday afternoon.
While some saw humor in the Mint's mistake, officials weren't laughing.
"We take this matter very seriously because we consider quality control a high priority," Mint spokeswoman Becky Bailey said. "We are looking into the matter and considering a possible cause in the manufacturing process."
Mint officials said they were unsure how many of the erroneous coins made it into circulation, with one coin expert putting the number at about 50,000.
The Mint printed 300 million of the new dollar coins. They are the latest installment in a series of efforts the Mint has put forward to excite coin collectors. Previous special edition coins included the 50-state quarters program and the Westward Journey nickel series.
The edge lettering on the Washington coin required a laborious process that the Mint hasn't attempted since the 1930s, Bailey said.
"We really had hoped that by featuring these inscriptions that would draw attention to them" she said. "To mint 300 million of these, it's been a challenge. What we're doing now is going through our manufacturing system to try to make technical adjustments and eliminate any such defects."
The Mint will be featuring four presidents each year on the coins, with John Adams, Thomas Jefferson and James Madison to make their debuts later this year. Each will have its own design and feature the Statue of Liberty on the back.
And hopefully "In God We Trust."
_________________
How the coin program will work