NEW YORK (CNNMoney.com) -- February was a disappointing month for retailers.
And industry observers say it wasn't because it was too cold to shop, or that consumers were tired of buying things, or that a "calendar shift" left Americans with too many or not enough shopping days in the month.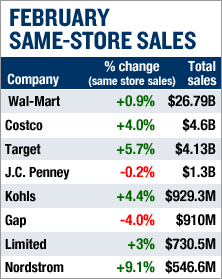 'All those reasons are unquantifiable. What we know for a fact is that there are just too many stores in America, and retailers' overexpansion is actually diluting sales growth in their new and existing stores," said Richard Hastings, senior retail analyst with Bernard Sands.
To his point, Wal-Mart (Charts), the world's largest retailer, already operates close to 4,000 Wal-Mart supercenters, discount stores, neighborhood markets and Sam's Club warehouse stores in the United States. In 2007, it plans to open as many as 330 new stores in its home market.
At the same time, there's clear evidence that as Wal-Mart pushes growth, its new stores are eating into sales at older stores.
To that effect, Wal-Mart's sales at stores open at least a year - a key measure of retail performance known as same-store sales - have slowed considerably to grow 1 to 3 percent on average over the last three years from more than 5 percent previously.
And that trend continues. On Thursday, the retailer reported weaker-than-expected February same-store gains of 0.9 percent, widely missing Wall Street forecasts for a 1.5 percent increase. For March, Wal-Mart expects another mediocre comp-store gain of 1 to 2 percent.
Wal-Mart isn't the only culprit, said Hastings. "Specialty stores like Gap, Ann Taylor, Hot Topic and Pacific Sunwear are suffering the same issue. Hot Topic is a very good company in the niche that it operates in but it overexpanded."
February same-stores sales fell 2.7 percent at the Goth and music-inspired Hot Topic clothing chain and 5.7 percent at teen apparel chain Pacific Sunwear.
Same-store sales at Gap Inc (Charts)., the No. 1 clothing chain, sank 4 percent last month, when Gap said it was shuttering all 19 of its Forth & Towne stores that cater to older women.
"Nothing suggests that we're going to see a recovery in same-store sales in the foreseeable future. For many retailers 2007 is the year that their comparable sales will hit the wall and we'll see plenty of store closings," Hastings said.
Few bright spots
Thomson Financial, which tracks numbers from 55 retail chains, said 60 percent of merchants missed their February same-store sales estimates while 37 percent beat their forecasts.
Warehouse club operator Costco (Charts) posted a 4 percent same-store increase in February, coming in shy of analysts' expectations for a 5.1 percent gain, according to First Call.
Limited Brands (Charts), operator of Victoria's Secret and Bath & Body Works chains, said its February sales rose 3 percent, also missing analysts' forecasts of a 4 percent increase.
Sales tumbled 8.4 percent at struggling home furnishings chain Pier 1 Imports and sank 4.3 percent at women's clothing chain Chico's.
Department store chain J.C. Penney (Charts), one of the better-performing names in the department store arena, also fell victim to last month's shopping malaise. Its same-store sales slipped 0.2 percent in February.
For the month, Thomson Financial expects same-store sales rose 3 percent, almost identical with gains seen a year ago.
Among the bright spots, sales at high-end seller Nordstrom (Charts) surged 9.1 percent, which industry watchers attributed to the company's success in providing good customer service and exciting merchandise.
"Companies that are led by great merchants such as Costco, Mickey Drexler at J. Crew, Target and Nordstrom will consistently do well even in a saturated market like the U.S." said Burt Flickinger, managing director with retail consulting firm Strategic Resources Group.
But, he said businesses that are cutting costs in order to drive consumer demand - and appease Wall Street's thirst for profits, which is Wal-Mart's dilemma - are sure to struggle.
Luxury goods: Tremors from the global selloff