NEW YORK (CNNMoney.com) -- Sharper Image, the troubled electronics and gift retailer, on Monday named Steven Lightman the company's president and CEO.
Lightman, 50, will replace Jerry Levin, who has served as interim CEO and chairman. After Lightman assumes his duties on April 9, Levin will remain chairman, the company said in a release.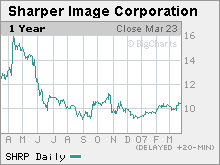 Lightman comes to Sharper Image from women's apparel direct marketer Crosstown Traders, Inc., where he served as president. Lightman helped create the company in 2002 to buy merchandise owned by Federated Department Stores (Charts) and its subsidiary Fingerhut.
Levin had been brought to Sharper Image (Charts) in September 2006 after the company's founder Richard Thalheimer, made famous by appearing in commercials for the store, presided over more than a year of poor performance.
His replacement occurred amid a board shake-up also aimed at bolstering the confidence of investors, as the company began to refine its marketing efforts and return to its core business of catalogue or direct market sales.
"We are delighted to bring Steven's extensive direct marketing experience and proven retail management skills to Sharper Image," said Levin in a release.
"I am confident that Steven's strong operational knowledge of the direct-to-consumer industry, coupled with his outstanding leadership skills, will continue to drive positive change at Sharper Image and help us deliver more quality, excitement and innovation to our customers," Levin said.
Sharper Image competes with Brookstone, Radio Shack (Charts) and larger retailers like Best Buy (Charts).
-----------------------------------------------------------------------
Where Starbucks meets the Sharper Image