NEW YORK (CNNMoney.com) -- Research In Motion may be to blame for a lot of sore thumbs. But customers, not to mention investors, of the BlackBerry maker probably forgive them.
The company's stock has surged more than 60 percent in the past year, a stunning run considering that at around this time a year ago, some on Wall Street had doubts about the Ontario, Canada-based company's future due to a lengthy legal battle that threatened to shut down its BlackBerry service.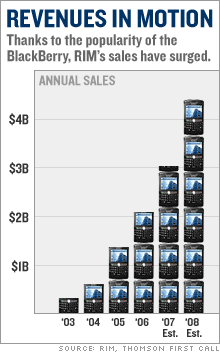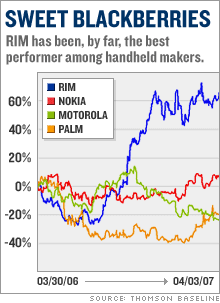 In 2002, a federal jury found that RIM had infringed five patents related to integrating e-mail systems and wireless networks from the holding company NTP - a ruling that made many investors skeptical about the future of the BlackBerry maker.
After years of back and forth rulings in various courts, NTP sought an injunction last year to shut down the BlackBerry service for its users - more than 4 million at the time. But the two sides hammered out a $612.5 million settlement last March and RIM (Charts) was able to keep its service running.
There were "definitely concerns" among customers "but as soon as that settlement was done, that concern was lifted and [RIM] returned back to their normal growth," said Nick Agostino, an analyst with Research Capital.
Since the settlement, RIM hasn't skipped a beat and has maintained its position as a leader in the "smart-phone" industry.
RIM's sales are growing at a robust pace as the Blackberry maker has successfully launched new products, particularly through wireless providers like AT&T's (Charts) Cingular and Deutsche Telekom (Charts)-owned T-Mobile.
Last September, RIM released the Pearl, a new model featuring a small built-in trackball - a change in navigation from previous BlackBerry models - an MP3 player, and a digital camera.
RIM currently offers service to nearly 8 million subscribers in over 100 countries. And RIM has more than 50 percent market share in the lucrative corporate market for handhelds since the BlackBerry is seen as a very reliable device.
But the sweet taste of BlackBerry's success has made RIM a target for many big competitors like Nokia and Motorola in the wireless device market. And a possible threat from Apple's new iPhone looms. With that in mind, is RIM stock still worth buying?
Highest form of flattery
Many analysts say they are not too concerned about competition from big cell phone makers like Nokia (Charts) and Motorola (Charts) and smart-phone maker Palm (Charts), which is rumored to be for sale.
For one, analysts say, RIM has done a better job of expanding beyond the corporate market and reaching out to retail consumers. The company followed up the successful release of the Pearl with the new BlackBerry 8800 earlier this year.
"RIM has proven that they have a knack for terrific design that wasn't apparent a year ago, " said John Lynch, an analyst with Needham & Co.
To that end, analysts point out that many of RIM's competitors have been introducing products that emulate features of the BlackBerry.
The Motorola Q and Samsung's Blackjack, in particular, seem to be very similar to the BlackBerry.
"It's flattering [competitors] are now making smart phones that look exactly like the BlackBerry," said Barry Richards, an analyst with Paradigm Capital.
Richards noted that RIM also has a key advantage over main rival Palm: price. Because RIM manufactures their product in-house, saving on costs, the average retail price of a BlackBerry is about $350, while Palm's average is just under $500.
And Lawrence Harris, an analyst with Oppenheimer & Co., said competitors will have a tough time unseating RIM in the corporate market. He thinks the BlackBerry's ease of use makes the devices more popular with corporations that need to buy them en masse.
"I think the key thing [for RIM] is they just don't sell devices, they sell solutions," Harris said.
Still, RIM is about to face competition from another company that knows a thing or two about pleasing consumers: Apple. Apple's (Charts) widely hyped iPhone is scheduled for release on June 11.
But analysts aren't convinced that the iPhone will pose a major threat to RIM.
"I'm sure the iPhone will do well and I'm sure there are consumers who need to have the latest and the greatest devices, but its not a corporate type of device," Harris said.
Like Palm handsets, the iPhone will cost more than the BlackBerry - from $499 to $599. Plus, Apple currently has only one provider to sell it, Cingular, limiting distribution to some extent.
The iPhone design is also a lot different since it has a touch screen as opposed to a full keyboard, a standard feature on BlackBerry models. So people that love their BlackBerry for checking and sending e-mail are unlikely to be wowed by the iPhone, some analysts think.
"RIM appeals to the e-mail-text messaging type and I don't think that the iPhone can appeal to that customer," said Research Capital's Agostino.
One potential issue for investors: much of the good news appears already baked into RIM stock. The shares are trading near an all-time high.
"Since the time of the lawsuit, the question seems to have shifted from 'Will the company get crushed by companies like Microsoft and Motorola?' to 'Will the company grow strong and steady, or explosively'," Needham's Lynch said. Microsoft's (Charts) Windows Mobile software powers many other wireless devices that compete with the BlackBerry.
The stock trades at about 31 times earnings estimates for the current fiscal year, which ends next February. While that's pricey, analysts believe RIM's expansion in the consumer market will boost earnings, justifying a price at a premium to its competitors.
RIM is due to report fiscal fourth-quarter earnings Wednesday, and analysts expect profits to soar 53 percent to 99 cents a share on a 66 percent jump in sales.
The company also recently announced it had added 1 million subscribers and many expect RIM to release several new models this year, which could give an extra boost to revenue.
For the full fiscal year, Wall Street is predicting that sales will jump 44 percent to $4.4 billion and that earnings will surge 39 percent.
What's more, analysts expect profits to grow at about a 22 percent clip, on average, for the next few years. That's more than double the expected earnings growth for Nokia, Palm and Motorola.
So go ahead. Take a bite out of this BlackBerry.
Google Phone: Closer... closer ...
Lack of buyer slams Palm shares

Paradigm Capital's Richards owns shares of Research In Motion but his company has not done investment banking for the company. Other analysts quoted in this story do not own shares of RIM and their firms have no banking relationships with the company.