(Business 2.0 Magazine) -- The wireless industry just wrapped up another confab and, judging from all the hype, you'd think every mobile phone owner in America downloads music, googles restaurants and watches TV on their mobile phones nowadays.
Well, guess what? They don't. A mere 5 percent of mobile revenues generated in the United States comes from data services such as the ones described above (compared to a whopping 40 percent in Asia). Only 5.3 million North Americans watch TV video clips on their mobile devices, and less than half of mobile users have surfed the Web on the go.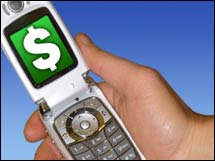 In other words, the vast majority of Americans are just using their phone to, well, talk.
The big bet in the industry, of course, is that those numbers will soon change. Hence the recent barrage of new services and devices aimed at turning your cell phone into your personal entertainment center.
But here's the rub: As they race to court future mobile data subscribers, wireless companies could wind up alienating consumers. There are so many different features, technologies and phone being pushed to market this year that it's nearly impossible for the everyday user to choose. So they might not.
My warning to the industry: Keep it Simple, Stupid. Lose all of the breathless, gee-whiz announcements and focus instead on doing a better job of marketing and selling your products.
"It's a confusing ecosystem," Phillip Alvelda, founder and CEO of service provider MobiTV, told attendees at last week's CTIA, the wireless industry's annual blowout conference. Alvelda's specialty--mobile TV--is the poster child for the complexities found in today's wireless offerings.
His Emeryville, Calif.-based company uses cellular networks to stream mostly prepackaged video clips to over two million cell phones. That sounds easy enough, until you factor in potential bandwidth problems and a rival offering from Verizon Wireless (Charts): a recently launched live mobile television service, V Cast Mobile TV.
Unlike MobiTV, Verizon's offering (powered by a Qualcomm (Charts) service called MediaFLO) actually sends a feed to devices over UHF spectrum, which is used for TV signal. What's more, it requires special handsets that are able to receive that feed (only the LG VX9400 and Samsung's SCH-U620 can do that). It's also available in limited markets, though that will probably change soon--especially once AT&T (Charts) launches a similar service later this year.
For now, though, consumers will be faced with two options they likely know little about--streaming video versus TV broadcasts. The distinction is important: both services offer very different content. And there are variations in service quality as welll. For the average user interested in watching The Daily Show on his cell phone, having to educate himself on the pros and cons of each is not an attractive proposition.
But mobile TV isn't the only problem facing the wireless industry. Many consumers still don't know how to download music onto their phones, or which plan they should sign up for if they want to surf the mobile Web or how to sync their email.
Consumer ignorance stems from the fact that the shopping experience at the local mobile phone store is all about the devices--not the services. I'd bet that a customer eyeing the super-thin Motorola Q wouldn't be able to tell from the specs that he can't get GPS directions or sign up for V Cast Mobile TV.
If carriers want to boost data usage, their phones and services should be easier to use and understand.
They might take a lesson from Helio, a niche mobile operator launched by EarthLink (Charts) and South Korea's SK Telecom (Charts) founded last year. While the budding "mobile virtual network operator" (MVNO) is reportedly far from profitable, it offers a good lesson in how to market and sell services.
Helio customers don't have to worry about an overload of unfamiliar service options. They can sign up for an "all-in" plan that gives you everything the small carrier has to offer (Google Maps, MySpace for mobile, video messaging and Web browsing, to name a few), then pick the price point based on the number of minutes they want to use each month.
Helio's subscriber numbers aren't impressive--70,000, as of last count--but the company is reaping a jaw-dropping $100 in revenue per user, which is double the industry average.
There's no reason why larger carriers too can't offer more easy-to-digest bundles. They could market phones by different categories--the "entertainment package" would consist of devices that are TV- and streaming video-enabled and include all such offerings, for example.
This way, consumers wouldn't have to educate themselves on the ups and downs of broadcast TV versus streaming video. Carriers could also better categorize and label devices in stores--one wall would be "entertainment," and customers interested in watching television on their third screen could pick whichever phone they wanted in that section.
It's long been an assumption that consumers want to have lots of choices, and to some degree, that's true. But when it comes to complex technologies, competing standards and operating systems, most consumers would rather be spared.
No wonder most Americans--unlike their overseas counterparts--are still confused or unaware of just what their phone can do for them.
___________________________________
More wireless coverage:
Will we all scream for touchscreens?
Mobile's newest killer app: Voice
MetroPC, techs eye the IPO market
The best of ultramobile PCs

To send a letter to the editor about this story,
click here
.