NEW YORK (CNNMoney.com) -- Retailers got a huge boost in March from the early arrival of Easter, but the buoyant mood was tempered by dour sales forecasts for April.
Overall, the sales results paint a mixed picture for retailers' first-quarter earnings but at the same time don't signal any surprising weakness in consumer spending, despite rising gasoline prices and the recent meltdown in the subprime mortgage market.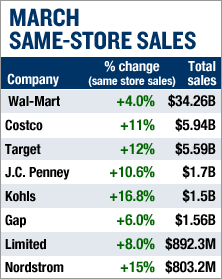 Wal-Mart (Charts), the world's largest retailer on Thursday reported a 4 percent jump in sales at its stores open at least a year, which is a key measure of retail performance known as same-store sales. That beat analysts' expectations for a 1.6 percent increase, according to Thomson Financial.
Wal-Mart said Easter-related purchases and strong sales at its pharmacy business - where late last year it rolled out a $4 generic drug plan - boosted spending in its stores. Moreover, due to the calendar, most retailers also included the first week of April in their final tally of March sales.
Analysts said this also contributed to better-than-expected sales results last month. According to Thomson Financial, which tracks numbers from 52 store chains, March same-store sales rose a strong 6 percent versus a 1.8 percent gain in the same month a year ago. The firm had originally expected April same-store sales to rise 4.1 percent.
"This March-April distortion happens every year with Easter. But the 53-week reporting calendar also added to all the noise surrounding March sales," said Richard Hastings, chief retail analyst with Bernard Sands.
Hastings and other industry experts said it's better to evaluate retailers' March and April sales combined for a more accurate picture of consumer spending patterns in the first quarter.
"Forget Easter and the calendar issue. If you really want to know how retailers are doing, go straight to the earnings," he said.
To that end, the signals are mixed.
Wal-Mart warned on its first quarter, saying that while its profit forecast of 68 to 71 cents a share was still attainable, "given the tough sales environment for the April period, it will be a challenge." Analysts, on average, expect the retailer to earn 69 cents a share for the quarter.
The discounter also expects April same-store sales to be flat to down 2 percent.
But teen clothing chains Aeropostale and American Eagle Outfitters both upped their first-quarter earnings forecasts.
Elsewhere, Target (Charts), the No. 2 discounter after Wal-Mart, reported a 12 percent surge in its March same-store sales but expects a 2 to 4 percent same-store sales decline in April.
In the department store arena, high-end seller Nordstrom (Charts) logged a 15 percent same-store sales gain in March but warned on weaker sales trends in April. Sales at mid-tier chain J.C. Penney rose 10.6 percent last month but it too expects April sales to be flat compared with a year earlier.
No. 1 apparel seller Gap Inc. (Charts), which has been been plagued by sales declines amid merchandise flaws, posted a surprisingly strong 6 percent increase in its same-store sales. That topped forecasts for a 1.1 percent decline.
The retailer said customers took advantage of spring clearance activity at its Gap and Banana Republic stores during the month.
"If anyone is expecting for consumers to stop buying anytime soon, they're making a big conceptual mistake," said Hastings. "Store traffic trends are slightly down, personal spending is a little down but retailers are adjusting to those patterns by being extremely flexible on price."
He also doesn't believe that higher gas prices, the recent mortgage mess and the slowdown in the housing market will derail American consumers' remarkable propensity to keep buying no matter what.
"We've had higher gas prices over the past two to three years and the impact on spending has been modest," he said. "The mortgage problems have been in play since early 2006 and will be a drag on lower-income households this year and the next."
Wal-Mart and other discounters are most exposed to low-income consumers. "Since Wal-Mart's business is so closely intertwined with the economy, this is a risk for the retailer in the months ahead," Hastings said.
Retail's next M&A targets