NEW YORK (CNNMoney.com) -- The House passed legislation that gives shareholders a nonbinding say on executive compensation on Friday.
The "say on pay" bill introduced last month by Rep. Barney Frank (D-Mass.), chairman of the House Financial Services Committee, passed by a vote of 269 to 134.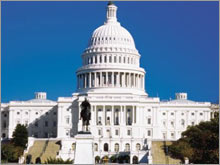 The measure allows shareholders to approve or disapprove a company's executive compensation plans but doesn't set limits on pay.
It also gives shareholders an advisory vote on any previously undisclosed "golden parachutes" a company gives while it's in talks to be bought or sold.
Golden parachutes are special retirement plans given to executives who are displaced in the course of a takeover.
"Now, people have suggested that Congress is legislating salaries. We reject that. The bill we have passed today does not intrude on the process of setting compensation," Rep. Frank said in a statement.
The move comes on the heels of more stringent Securities and Exchange Commission rules approved last year that require better reporting on executive compensation.
Scrutiny over skyrocketing CEO pay has mounted, especially over what critics claim is a widening gap between compensation and performance.
But not everyone agrees that giving shareholders a say on pay is the best way to better link pay to performance.
Critics argue that the legislation increases unnecessary oversight, and that corporate boards are still the best mechanism through which to determine CEO pay.