(FSB Magazine) -- Dear FSB: I would like to join a group of angel investors, especially in biotech, but I don't know any. How can I find them? --Anup Salgia, MD, Copley, Ohio
'Dear Anup: Angels are easy to find. Just type the words "angel investor networks" or "angel venture investors," plus your state, into any search engine and - voilà! - you'll get a list as long as your arm.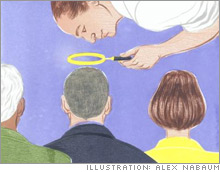 Ask FSB
Get small-business intelligence from the experts. Here's a chance for YOU to ask your pressing small-business questions, and FSB editors will help you get answers from the appropriate experts.
The tricky part is figuring out which groups best suit your budget and your goals, and for that you'll have to contact them one by one and do some digging.
Ohio has plenty of angel groups, including C-Cap (c-cap.net) in Cincinnati, whose site points out that state residents can qualify for a 25 percent tax credit up to $62,500 for investing in Ohio-based tech companies.
Another place to start is the Ohio TechAngel Fund (ohiotechangels.com), one of the largest networks in the state, which invests in biotech, among other things.
Looking for answers to pressing small-business issues? See what our experts have advised other entrepreneurs, and share your own ideas, in our Ask FSB blog.

click here
.