NEW YORK (CNNMoney.com) -- Amazon.com, the world's largest e-tailer, is expanding a program designed to allow independent sellers - including those on eBay - to use its network of distribution centers to store and ship their products, according to a report published Friday.
The New York Times, citing Amazon CEO Jeff Bezos, said the e-tailer has had the "Fulfillment by Amazon" program in place since last fall.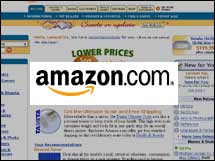 It allows independent sellers who list their goods on Amazon.com (Charts, Fortune 500) to use its network of more than 20 distribution centers around the world to fill orders.
Now Amazon is opening the program to vendors who list their items elsewhere on the Web, on their own site, through Google (Charts, Fortune 500), or even on Amazon's e-commerce rival, eBay (Charts, Fortune 500), the newspaper said.
The program is part of a broader set of tools called Amazon Web Services, an effort by the e-commerce pioneer to rent out complicated parts of its infrastructure to smaller companies that might benefit from its expertise, and who will pay for the privilege of lightening their workload, the report said.
"We have this beautiful, elegant, high-I.Q. part of our business that we have been working hard on for many years. We've gotten good at it. Why not make money off it another way?" Bezos told the paper.
Another Web services program, Amazon Simple Storage Service, or S3, allows businesses to store their data on Amazon's own computer servers. Bezos said S3 now held 5 billion "objects," or pieces of data, up from 800 million last July, according to the Times.
Participants in the program, which is still in the experimental phase, can sign up on Amazon.com and print out stickers that they put on their goods. They then send their products to Amazon, which stores the items commingled with its own, the report said.
Amazon ultimately ships them to customers when they are ordered online, and charges the seller a variable fee based partly on the weight of the item and the shipping cost, the paper said.
Sellers are effectively paying to ship their goods twice. But the program is aimed at small online retailers who have filled up the space in their basements and attics but want to avoid buying and managing their own warehouses, the report said.