NEW YORK (CNNMoney.com) -- The first shipment of Indian mangoes - arguably some of the best and juiciest varieties in the world - were officially cleared for retail sale in the United States on Tuesday after an 18-year hiatus.
The United States, which estimates its market size for mangoes to be a sizeable 250,000 tons, imports the fruit mainly from Mexico and other Central American countries.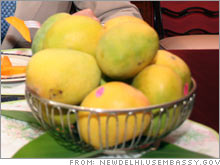 Although India is the world's largest producer of mangoes, accounting for close to 50 percent of the world's output, the U.S. banned Indian mango exports in the mid-1980s over concerns that Indian farmers used hazardous pesticides to protect the fruit crop.
However, the mango ban was finally lifted when President Bush and Indian Prime Minister Manmohan Singh signed a deal in New Delhi last March 2006 to enhance bilateral trade in agriculture with India, symbolized by paving the way for mango exports to the United States.
The South Asian nation produces more than 1,000 varieties of mangoes, including the popular Alphonso and Kessar varieties. Those two varieties were among the first shipment to arrive in the United States.
What was India's trade quid pro quo to the United States?
India said it would clear the way for Harley Davidson (Charts, Fortune 500) bikes to enter its competitive market for motorbikes.
However, trade experts say the mango-for-bikes deal is also part of the wider global trade negotiations, dubbed the "Doha Round" currently underway amid much wrangling between the United States, India, the European Union nations and other countries.
The United States wants to boost exports of homemade goods. Major trading partners like the EU, India and other countries also want greater access to U.S. food and other markets.
But they're unwilling, in the eyes of the American negotiators, to open up their markets to U.S. firms. At stake is trillions of dollars in cross-border trade between all these trading partners.
"The mango deal is indicative of the commitment that U.S. and India have to deepening trade ties," said Steve Norton with the U.S. Trade Representative's Office in D.C.
"The United States is closely working with India in the context of the Doha Round. India has an important role to play in those talks given its status as one of the most populous countries in the world," Norton said. "It's significant to both countries to resolve our trade issues and I think the mango deal is a sign of more good things to come."