NEW YORK (CNNMoney.com) -- Home prices are expected to finish down for the year, the National Association of Realtors (NAR) said Tuesday, which would mark the first drop since the group started tracking values in 1968.
NAR projects a 1 percent decline in the median price of an existing single-family home, to $219,800. The group, in a forecast made a month ago, had previously been expecting a 0.7 percent decline. Prior to that, it had expected a gain of 1.2 percent.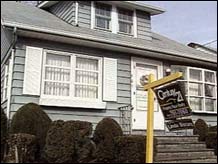 CNN's John Vause tells how China's decision to invest its foreign reserves could boost mortgage costs. (May 5)
Play video

The number of home sales is also expected to dip from 6.48 million in 2006 to 6.29 million in 2007, a drop of 2.7 percent.
Prices of new homes, at a median of $246,400, are expected to remain steady.
According to Lawrence Yun, a senior economist for NAR, speculative investing in real estate, which contributed to abnormal price growth for several years, has all but disappeared in the present market.
"Home buyers today are purchasing for the long-term, generally with a realistic expectation of modest gains over time," Yun said.
NAR is predicting that sales will recover gradually over the second half of the year and prices will begin to edge up again sometime after that. In 2008, NAR is forecasting price gains of 1.4 percent for existing homes and 2.2 percent for new homes.
According to Walter Molony, a spokesman for NAR, the statistics may exaggerate the drop because sales have slowed more in high-priced areas than in moderately-priced ones.
Also affecting home prices is a crisis in the subprime lending industry. A rash of foreclosures and forced sales that will add to already lengthening inventories is expected to hurt housing markets throughout the year.
Loan originators are tightening up lending standards this year in response to increasing defaults among subprime borrowers.
That will make it more difficult for many credit-damaged house hunters to obtain financing, subtracting demand from already weakening housing markets.
NAR expects interest rates, currently at about 6.16 percent for a 30-year fixed-rate loan, to rise gradually to about 6.5 percent by the fourth quarter, which should also have a dampening impact on home prices.

For Sale: Scenes from a bubble
Nail that sale!
2 families were struggling to sell their homes. Money Magazine came up with 11 simple moves to help.