NEW YORK (CNNMoney.com) -- JetBlue Airways ousted its founder from his CEO job Thursday, three months after the service problems that stranded passengers on grounded jets for hours dented the airline's reputation for customer service.
David Neeleman, 47, will stay on as chairman of the company he's led since its founding in 1998 and its first flight in 2000. But David Barger, 49, who had been president of the upstart discount airline since 1998, will become chief executive officer.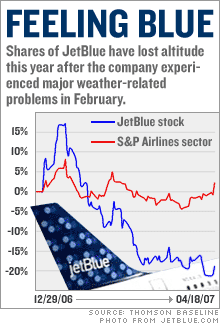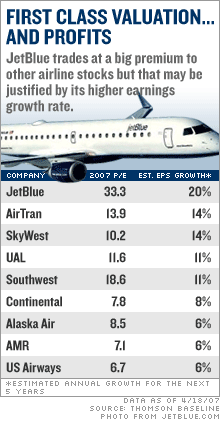 "Knowing that Dave Barger was ready to succeed him as CEO, the board suggested to Dave Neeleman that he could best serve the company as a strategic visionary," JetBlue spokeswoman Alison Eshelman said Thursday morning.
Shares of JetBlue (Charts) jumped about 5 percent in midday trading on the news.
The move was applauded by one of the airline's biggest shareholders. Connor Browne, co-portfolio manager of Thornburg Investment Management, which owns nearly 10 percent of JetBlue stock, said Neeleman deserved a lot of credit for the creation of an airline that became the nation's No. 8 carrier in less than 10 years. But he acknowledged that change was needed at the top.
"They've had challenges even dating back earlier than this year," he said. "We have a tremendous amount of respect and confidence in Dave Barger. Perhaps a heightened focus on operations is what the airline needs at this stage of development."
When asked if Thornburg had pushed for the management change, Browne said his firm usually does not take an active role in management of companies it invests in, although he added "certainly we will do what we think is the best interest of our shareholders."
JetBlue is one of several low-fare carriers, along with Southwest Airlines (Charts, Fortune 500) and AirTran Airways (Charts), that have caused headaches and competitive problems for bigger rivals such as Delta (Charts), American (Charts, Fortune 500) and United (Charts, Fortune 500) in recent years, as lower labor costs and fast growth helped drive down fares.
But even before the service problems in February, JetBlue wasn't as profitable as some rivals, posting profits in just two of the last six quarters, when most of the industry was returning to profitability. Its stock has trailed the Amex Airline Index, falling about 20 percent over the last six months.
Neeleman told Reuters Thursday that he agreed with the decision to make a management change. "When you're a founder and an entrepreneur and you get mired in the operation, it's not good for anybody," he told the news agency. "This is a much better structure for us going forward. That was the board's recommendation, and I said 'Great, let's do it'."
Eshelman said the changes in JetBlue leadership were underway before the Feb. 14 storm that left many of its planes grounded at its hub at New York's John F. Kennedy International Airport, with passengers unable to get off the flight for five hours or more. The company has hired a new chief operating office and a new chief revenue officer in the last six months.
But the storm, and the time it took JetBlue to recover from it, was a major blow for an airline that had traditionally had one of the lowest rates of complaints of any U.S. carrier.
It took the better part of a week for JetBlue to recover from the meltdown and start flying its complete schedule of flights, due to pilot scheduling problems caused by the storm and grounding of jets.
Neeleman admitted the airline should have moved to cancel flights more quickly that day, and that it was not properly prepared to recover from the disruption.
The problems cost JetBlue an estimated $30 million and caused it to introduce a passenger's bill of rights to compensate fliers stuck on planes on the tarmac, giving those who are waiting five or more hours the right to get off the plane.
Airline analyst Ray Neidl of Calyon Securities agreed that JetBlue was already moving toward reshaping its management before the February fiasco but that the storm may have brought about the change at the top sooner than otherwise.
"That might have been the final straw but they were moving in that direction already," said Neidl, who cut his recommendation on JetBlue to neutral and his price target to $11 after its April earnings report. "JetBlue has reached a certain size where they need tough, experienced managers."
Airline consultant Mike Boyd agreed that the service problems, especially those that after the Feb. 14 storm, exposed a management problems at JetBlue.
"It became clear that JetBlue didn't have basic operational systems in place," said Boyd. "It's one thing to have an ice storm. The real issue wasn't people stuck on airplanes - that was overblown. The real problem is for five days not having pilots and aircraft back in synch."
Boyd said the most serious problem for JetBlue is its aggressive plane purchases, noting the airline's long-term prospects are uncertain. "They could implode. They have a lot of costs coming on line and they will have a hard time filling airplanes," he said. "What they're going to have to do is tell Wall Street that unbridled continual growth is not in the cards and do some negotiations with Airbus and Embraer (Charts) to slow down deliveries."
But Boyd said he thinks Barger is a good pick to make the necessary changes at the airline.
"I think he's a very good manager," he said. "Sometimes bringing someone from outside can be worse for a company that needs a change. You've got to deal with a learning curve. You want to change the course, not eliminate it."
There have been some rumors among employees at both JetBlue and Delta that JetBlue might be bought by the Atlanta-based carrier, which just emerged from bankruptcy last month after fighting off a hostile takeover effort by US Airways Group (Charts, Fortune 500) earlier this year.
Delta did not respond to questions about any interest it might have in JetBlue when asked about it earlier this month. JetBlue's Eshelman said the company does not comment on merger and acquisition rumors, but added, "We don't have any interest in merging with another airline or developing code share alliances."
JetBlue is not the first airline that Neeleman started. In 1996 he helped to start WestJet, a Canadian low-fare carrier, and from 1988 to 1994 he served as president of Morris Air, a low-cost carrier he eventually sold to Southwest.
According to the company's proxy report, Neeleman owns 10.8 million shares of JetBlue, about 6 percent of its shares outstanding, making him the largest individual shareholder. Those holdings are worth about $118 million at prices Thursday.
The proxy said that if he is terminated without cause, he is entitled to receive his base annual salary of $200,000 and his bonus of $75,000 a year throughout the life of his employment contract that runs through August 2009.
In addition to Thornburg, four big investors own larger stakes than Neeleman, including Fidelity Management and Research, with about a 15 percent stake, and Soros Fund Management with nearly 9 percent, according to filings. JetBlue is the second largest equity holding of the Soros group, making up about 5 percent of its portfolio.
Officials at Fidelity and Soros declined to comment.