NEW YORK (CNNMoney.com) -- When two of the nation's biggest retailers - Wal-Mart and Home Depot - deliver profit duds on the same day, some investors might start making bets against the entire retail sector.
Well, maybe the smart money isn't going to take those bets - at least not all of them.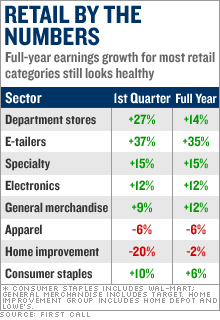 Indeed, Wal-Mart (Charts, Fortune 500), the world's largest retailer, reported basically flat profits for the first quarter and issued a tepid outlook while profits tumbled at Home Depot.
Both chains are vulnerable to the meltdown in housing and the run-up in gas prices. For Wal-Mart, gas prices that tick higher eat away at how much cash the retailer's core low-income shoppers have left over for shopping.
For Home Depot (Charts, Fortune 500), the housing downturn has delivered a double whammy. As home prices drop, fewer people can pull cash from their homes the way they once did. And the slowdown in building activity has hurt sales of building supplies, a key product category for the No. 1 home improvement retailer.
Both companies admit they see a "challenging" sales environment in the months ahead, another worrisome sign for investors.
Analysts, on average, expects earnings for home improvement sellers to dip 2 percent in the current fiscal year. Full-year earnings growth for the consumer staples category, which includes Wal-Mart, is expected to fare a little better, at a 6 percent year-over-year increase.
But excluding those two categories, first-quarter and full-year earnings projections for some of the other key retail sectors look surprisingly healthy. Among the standouts: department stores. Profits are expected to jump 27 percent in the forst quarter and 14 percent for the year.
Goldman Sachs analyst Adrianne Shapira wrote that while Wal-Mart might set a negative tone, she "suspects many [retailers] could see a near-term bounce out of first-quarter earnings as most sub-sectors, especially department stores, appear likely to meet or exceed initial earnings guidance."
That, she wrote in a note to clients Monday, might lead to "upward revisions to full-year expectations."
The stocks that she's bullish on are mid-tier department store chains J.C. Penney (Charts, Fortune 500), Kohl's (Charts, Fortune 500) and high-end sellers Nordstrom (Charts, Fortune 500) and Tiffany.
Profits for e-tailers such as Amazon (Charts, Fortune 500) are forecast to surge 35 percent for the full year and earnigns at electronics chains are projected to grow 12 percent, according to analysts surveyed by earnings tracker First Call.
But not all sectors are expected to do so well.
In addition to general merchandise and home improvement chains, clothing merchants are in for a tough year. Earnings are expected to slide 6 percent for the year. Several retailers such as Gap, the No. 1 clothing merchant, are already struggling with slumping sales, and got hurt further by the shift in the Easter holiday that decimated sales last month.
Even so, some analysts are still optimistic that clothing sales will rebound this summer.
"I think the weakness in apparel in the first quarter was largely weather-related as colder March weather hurt sales of warm weather clothing. Some individual companies also didn't get the merchandise right," said Mark Montagna, analyst with C.L. King & Associates.
"But this is not a permanent trend," he added. "I think May will be a comeback month for this category." The stocks he favors include Dress Barn, Delia's, Ross Stores and TJ Maxx.
"There are pockets of strength in retail. With the exception of home improvement retailers, Wal-Mart and the auto sellers, consumer spending is holding up well," said John Butters, analyst with First Call.
What's propping up spending?
Stuart Hoffman, chief economist with PNC Financial Services Group, said income growth coupled with strength in the job market - so far - has made Americans confident they can keep shopping, albeit more cautiously.
"Spending is being held in check by gas prices and the decline in home prices but income growth and the stock market are positive for consumers," Hoffman said Friday after last week's reports of sluggish April retail sales.
"Jobs growth in the first quarter was quite strong but we have to watch this closely especially if employment growth this spring and summer turns out to not be as strong as it was last fall and winter."
-- Analysts quoted in the story do not personally own shares of the companies they cover.