NEW YORK (CNNMoney.com) -- The Federal Reserve offered a slightly more upbeat view on the economy Wednesday, a day before the government is expected to cut its already tepid estimate of growth in the first quarter.
Fed officials were concerned about slowing economic growth at their May 9 meeting, but downside risks to the economy "were judged to have diminished slightly," minutes from the meeting released Wednesday said. (Read the Fed minutes.)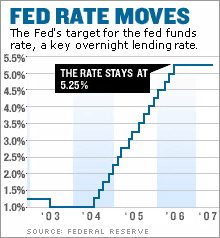 The slight improvement to the economic growth outlook sent stocks soaring, with the Dow gaining more than 100 points and the S&P 500 finally closing at a record high. But the economy isn't out of the clear yet, analysts said.
The Commerce Department is due to release its revised reading on first-quarter gross domestic product on Thursday. GDP, the broadest measure of the nation's economy, is expected to be revised to show 0.8 percent annual growth in the quarter, down from the initial reading of 1.3 percent, according to economists surveyed by Briefing.com.
Investors cheered the Fed minutes, which were positive in that officials said they still expect economic growth to accelerate this year. But given the weak first-quarter number that's expected, it won't take much to call it a rebound, according to Stuart Hoffman, chief economist with PNC Financial Services Group.
He expects GDP to pick up in the current quarter and second half of the year, but only to about a 2 percent growth rate.
Fed officials said they were encouraged by a pickup in manufacturing and business spending, but Paul Kasriel, chief economist for Northern Trust in Chicago, is skeptical about growth coming from the business sector.
"Why would corporations step up their spending when they're seeing housing and consumer spending slowing? Why would a business want to expand its operation when demand is weakening?" he said.
Even if the Fed cuts rates before the end of the year, Kasriel thinks the economy could still fall into a recession. The Fed has kept interest rates steady at 5.25 percent at its last seven meetings and is widely expected to keep them on hold for several months more.
Aaron Smith, an economist at Moody's Economy.com, said he expects the economy to rebound in the second quarter, but going forward, the big question will be how consumers hold up.
That could further affect the already battered housing market, where "there's still a lot of downward pressure and the spillover has yet to fully manifest itself," he said.