NEW YORK (CNNMoney.com) -- As Wal-Mart prepares for its annual meeting, the world's biggest retailer - in typical fashion - has lined up big-name performers to entertain the crowd, including a concert by The Eagles.
More than likely, the pomp and circumstance is also meant to distract shareholders from the thorny issues that have nagged the retail giant in recent years.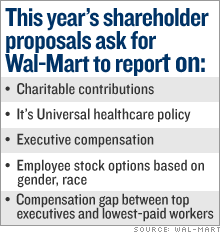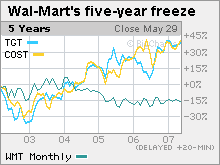 As thousands of investors pack the Bud Walton arena for the meeting on Friday in Fayetteville, Ark., here's what they'll be thinking about.
Wal-Mart (Charts, Fortune 500)'s stock is down 5.1 percent since last year's meeting while shares of rival discounters Target (Charts, Fortune 500) and Costco (Charts, Fortune 500) have risen 24 percent and 4 percent, respectively, over the same period.
Sales at stores open at least a year, a key measure of retail performance, have grown just 1 to 3 percent at Wal-Mart the past three years, versus about 5 percent previously. And while total sales including new stores grew 11 percent last year, profits grew an anemic 1 percent.
But not everything's gone wrong for Wal-Mart the past year. Its $4 generic drug program and its "green" initiatives have generally been well received.
Its other problems persist, however. It made a big misstep with higher-priced fashion clothing; it backtracked on its plans to open a bank, and its union-backed critics are still hammering Wal-Mart for what they claim is its unfair pay and health care. Wal-Mart defends its pay and benefit practices.
And it's hard to put a positive spin on Wal-Mart's "spygate" scandal - the salacious saga of how it fired former ad executive Julie Roehm.
Even though Wal-Mart won back the No. 1 spot on Fortune magazine's annual ranking of America's largest companies, that's not doing much to appease shareholders.
"When you have value built into the company but the market doesn't recognize it, that's very frustrating to investors," said Don Gher, chief investment officer for Coldstream Capital Management, which counts Wal-Mart in its $1.5 billion portfolio. "The company has stumbled when it should be doing well."
Peter Fader, professor of marketing at Wharton Business School, called Wal-Mart a "marked" company. "In some ways that's enviable because it shows people are talking about you," Fader said. "Look at Microsoft and the old AT&T. They've kept their brand leadership position despite people passionately hating them. Management should never give up but be reasonably responsive to criticism."
Gher and other experts say Wal-Mart needs a catalyst - or a few - to boost sales and profits and get its stock moving again. Here are a few ideas.
Sam's Club: Sell it or spin it off. This tops the list for Gher. "Wal-Mart should use the hot M&A market to realize the value of the division," he said. "Plenty of private equity firms would be interested. It's got more allure to it than Wal-Mart and doesn't have a target on its back."
Same-store sales at Wal-Mart's 582 Sam's Club warehouse stores grew 4.1 percent last quarter versus a 0.1 percent decline at Wal-Mart Stores.
Some Wall Street analysts have said a spinoff could make sense.
"With over $41 billion of sales in 2006 and a solid management team, we believe the division is substantial enough to stand on its own," Citigroup analyst Deborah Weinswig wrote in a note to clients in January, noting that Sam's Club has about 42 percent of the warehouse club industry, second to Costco's 49 percent.
Spinning off Sam's Club, which could be worth $20.6 billion, would allow the company to "focus solely on improving its U.S. and international operations," she wrote.
But some analysts aren't convinced. Joseph Beaulieu at Morningstar said, "It'll be very difficult to disentangle Sam's from Wal-Mart. Sam's leverages Wal-Mart's distribution network, even Wal-Mart parking lots."
Others suggest Wal-Mart should rethink another unit, its 110 smaller urban neighborhood stores that primarily sell groceries. It hasn't set any aggressive expansion targets for this format partly because of the great resistance it faces from communities in cities like New York and Los Angeles.
Wal-Mart could sell the unit or relaunch the stores with a different range of products not sold at its discount stores, said Russell Jones, director with turnaround advisory firm AlixPartners. "This could succeed if Wal-Mart doesn't associate the new format with its Wal-Mart brand," he said.
Stick to basic clothes: Wal-Mart shot itself in the foot last year by straying from low-priced items like socks and underwear in favor of pricier, trendier clothing. And Wal-Mart's never really moved clothes the way Target has with its "cheap-chic" designer wear.
"Higher-income people do not shop at Wal-Mart for clothes because they don't need the savings," Ketty Maisonrouge, marketing professor at Columbia Business School. "It's a mistake for Wal-Mart to try to appeal to people who are trading up in their spending."
Should it pull out of clothes altogether? Gher doesn't think so. "Wal-Mart's struggling with apparel but it still sells a lot of it. It needs to stick to selling the basics," said Gher. What's more, with the recent addition of former J.C. Penney's (Charts, Fortune 500) CEO Alan Questrom to Wal-Mart's board, Gher said Questrom could help reinvigorate the category for Wal-Mart like he did for Penney.
New leadership: "This could be welcomed by investors," said Steven Baumgarten, an analyst with PNC Advisors, a Philadelphia-based investment firm with $54 billion in assets under management, including Wal-Mart stock. "It's a huge company. It take a lot to right the ship and it won't happen overnight."
Baumgarten thinks Eduardo Castro-Wright, CEO of Wal-Mart USA, is a good candidate. "He's done a good job when he headed the Mexico operations and he's worked closely with Scott," he said.
Under Scott, a 25-year veteran at Wal-Mart and only its third CEO after founder Sam Walton and then David Glass, sales have doubled to more than $345 billion. But its stock price has been stagnant during Scott's seven-year reign.
"Scott spend more time apologizing for Wal-Mart's mistakes instead of being a champion for Wal-Mart," said Morningstar's Beaulieu. "He's never been a celebrity CEO.
"Wal-Mart has recently done a considerable amount of executive reshuffling. Give that a chance to work," Gher said, but warned that investors' patience with the stock was wearing thin. "[Scott] should be very aware of that."
International focus: Wal-Mart's overseas business is now a bigger piece of the pie, accounting for 23 percent of total sales last year, up from about 19.6 percent two years ago. The retailer currently operates in 15 countries, including China, Mexico and Japan. It's also set a joint-venture with Bharti Enterprises to enter India.
"International expansion is the best opportunity for growth for this company," said PNC's Baumgarten. "I'd rather see it grow organically instead of through acquisitions because the last thing Wal-Mart needs is to buy someone else's headaches."
Know your customer: If Wal-Mart needs just one catalyst, it's understanding its own customers better, said Wharton's Fader.
A combination of arrogance and naivete has landed Wal-Mart in trouble, he said. "Its problems could be avoided if Wal-Mart exploited the huge amounts of data it collects to really understand its customers and do a better job in serving them. It's irresponsible for it not to. It doesn't even have a good loyalty program for its shoppers."
He cited Netflix as as example. "Netflix does a fantastic job serving its customers. It has an enormous data and it uses it to pull very specific data on individual customers," he said.
If Wal-Mart did that, it wouldn't make all of its merchandising blunders, he added. "This embodies Wal-Mart's problem. When you think inside the box for too long, you'll keep making the stereotypical mistakes." Fader said.