NEW YORK (CNNMoney.com) -- Wal-Mart, eager to please its shareholders, assembled an impressive array of entertainers at its 37th annual meeting on Friday in Fayetteville, Ark.
Despite its numerous business challenges, the world's largest retailer chose to dedicate two hours of its four-hour shareholders meeting to star-studded performances by Jennifer Lopez, the newest American Idol winner, Jordin Sparks, and funny skits by comedian Sinbad.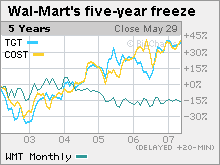 Not all shareholders bought the pomp and circumstance. Peter Flaherty, president of the National Legal and Policy Center, attacked executives over Wal-Mart's (Charts, Fortune 500) sagging stock price.
"In 2000, Wal-Mart's stock price was $60. Now it's $47. In 2000, Target's stock price was $34. Today it is $60," Flaherty said. "Wal-Mart is too busy answering union groups and it's now being guided by the liberal Edelman [PR] agency. What do they care about the future of this company?"
Wal-Mart's stock price has been stuck in a range between $45 and $60 over the past seven years. But shares bounced higher Friday after Wal-Mart said it would scale back on supercenter growth the United States.
"Look at the price of gas. It's over $3 a gallon. If Wal-Mart's customers spend all their money on gas what will they have to spend in the stores?" he asked. 'How is this good for Wal-Mart? People shop at Wal-Mart for low prices, not to be politically correct."
Sister Susan Mica with the Benedictine Sisters of Boerne, Texas, presented a shareholder proposal requiring Wal-Mart to report on the gap between senior executive compensation and its lowest-paid workers.
"There is growing concern among investors about this very big gap. Wal-Mart is the nation's largest [private sector] employer. In spite of underperforming, its senior executives are still highly rewarded," Sister Mica said. "In 2006, Wal-Mart's CEO [Lee Scott's] compensation was 600 times the average pay of a Wal-Mart U.S. employee. From our perspective, this is a scandal."
The meeting was monitored via Web cast in New York.
Moderating U.S. growth
Wal-Mart outlined plans to improve the retailer's U.S. sales at its stores open at least a year, which is a key measure of retail performance known as same-store sales.
They include slowing down U.S. supercenter growth to 190 to 200 new and relocated stores this year and approximately 170 supercenters each year for the next three fiscal years. Wal-Mart last year opened between 265 to 270 supercenter stores.
Wal-Mart said it would grow consolidated square footage approximately 6 percent for fiscal years 2008 and 2009 and grow U.S. square footage between 4 to 5 percent over the same period. That's much slower than its typical 8 percent annual increase in square footage.
The retailer said these efforts would reduce capital expenditures to about $15.5 billion, down from the previously projected $17 billion. Wal-Mart's board also authorized an increase in the company's share buyback program to $15 billion.
Investors applauded the news by boosting the stock almost four percent on the New York Stock Exchange.
Indeed, Wall Street has fretted that Wal-Mart was being too aggressive with its expansion strategy in its already saturated home market, expressing concern that its new stores were starting to eat into sales at older stores.
As Wal-Mart runs out of room to grow at home, its same-store sales have slowed considerably to an average increase of between 1 to 3 percent from earlier levels of a more than a 5 percent increase per year.
Wal-Mart executives said the retailer's current cannibalization rate was around 1 percent but declined to say how the new supercenter strategy would impact that rate.
"We are committed to improving return on investment, while continuing to grow in the United States," Scott told attendees. But it will be a bumpy road ahead. "'The macro-economic environment is tough for our customers but we have to work through the difficulties," he said.
Scott was referring to record-high gas prices and softness in the housing market, two economic shifts that especially hurt Wal-Mart's paycheck-to-paycheck consumers.
Earlier in the day, Rob Walton, chairman of Wal-Mart's board, told attendees that he and Wal-Mart's board had "absolute confidence in Scott's leadership. We appreciate you and thank you," Walton said.
Walton's public declaration of support for Scott isn't surprising as Scott faces mounting pressure over Wal-Mart's less-than-stellar stock and sales performances.
All 15 directors, including former J.C.Penney CEO Alan Questrom were elected to the board and all 11 shareholder proposals, including one that asked Wal-Mart to report on the disparity between senior executive compensation and compensation for its lowest-paid employee, were defeated.
During a separate meeting with analysts, Sam's Club CEO Doug McMillon responded to a question about whether he still sees value in the warehouse club division being a part of Wal-Mart.
"I see tremendous amount of benefit. If we weren't a part of the company and Lee Scott asked me to, I'd sign up for it," McMillon said.
Meanwhile, Scott talked about future opportunities, including financial services. Wal-Mart claims it saves customers $250 million a year through services such as check cashing, money transfers, and Wal-Mart branded credit cards.
"I think there's more opportunity ahead but I don't think we'll have a bank in the near future," Scott said.
Wal-Mart's online unit Walmart.com can also do better, he said. "I'm NOT satisfied. There's just so much we can do with it. It should have a more societal connection than just being transactional," he said. "I'm afraid we'll wake up in 10 years and realize we missed the opportunity."
Regarding Wal-Mart's international operations, which currently account for 23 percent of its total sales, Scott told analysts that his one criticism of management is that Wal-Mart isn't moving fast enough to enter new markets.
"We have the capability in our management and our structure to take advantage of growing [countries] in the world where consumer products companies are making lots of money," Scott said. "But we need to do this when there is growth and not when we're ready."
"We now have amassed the appropriate [management] team that can take advantage of our opportunities," Scott told analysts. "We don't have to have modest [sales] increases when energy costs are higher. We have the wherewithal to do better by running our stores better, sharpening our prices and having the right merchandise."
"This company is rock solid. It doesn't require a great genius to do all that we want to do," Scott said.