NEW YORK (CNNMoney.com) -- Interest rates are ticking higher overseas, raising concerns on Wall Street that U.S. rates will be pulled up along with them - but that may not necessarily be the case.
From Canada to England to Japan, central banks around the world have been raising rates amid growing concerns about inflation.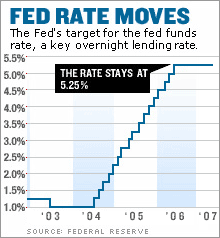 That's sparked a bad case of jitters on Wall Street, sending the Dow industrials tumbling more than 200 points over the last two sessions on concerns that the Federal Reserve may have to start raising rates again as well.
Treasury bond prices have also been falling, sending the yield on the benchmark 10-year note back near 5 percent, a level not seen since August 2006, as bond investors also place bets that higher rates are coming. Bond prices and yields move in opposite directions.
While higher rates can slow inflation they also tend to slow economic growth, hurting corporate earnings, and spooking investors. But there was another factor feeding the two-day selloff on Wall Street: some investors were looking to take some profits after the recent rally that had driven the Dow and S&P 500 to record highs.
Meanwhile, Treasury yields have been rising for several reasons - not just worries about inflation and higher rates from the Fed. As rates have risen overseas, that's also sparked selling in the Treasury market as investors seek higher yields overseas.
"Since yields are rising abroad, that's putting pressure on rates in the U.S.," said Tony Crescenzi, chief bond market strategist at Miller Tabak and Co. He noted that the spread between the yield on the 10-year Treasury and the equivalent German government bond is now the narrowest it's been in 2-1/2 years.
Furthermore, the economy - while still weak - is expected to pick up steam in the current quarter and the second half of the year. Strong readings on durable goods orders, services and manufacturing have all pointed to an increase in output that is expected to boost growth.
Overseas, upward pressure on inflation on a global scale has driven rates higher.
"Globally because growth remains pretty strong and there are some inflationary pressures that could manifest themselves, central bankers will feel the need to tighten policy," said Jay Bryson, global economist at Wachovia.
Prices of raw materials - an indication of inflation - are rising worldwide. In Europe, labor markets are improving, which could translate into upward wage pressure.
On Wednesday, the European Central Bank, which sets rates for most of Europe, lifted rates a quarter-percentage point to 4 percent in an effort to keep inflation at bay. The bank is expected to raise rates further, possibly twice more this year.
"There is a risk that wage developments will be stronger than expected, which would pose significant upward risks to price stability," the ECB said in its policy statement.
In England, the central bank hiked rates at its meeting last month to 5.5 percent. Economists aren't anticipating another increase when policymakers meet Thursday, but a hike later in the year is widely expected.
Inflation may be running ahead of where central bankers would like to see it, but that doesn't mean an inflationary outbreak is going to occur, Wachovia's Bryson said. "Central banks around the world aren't going to let that happen," he said.
Furthermore, while pressure may be building in Europe, inflation in the United States seems to be on a downward path, said Lakshman Achuthan, managing director of the Economic Cycle Research Institute.
The ECRI tracks underlying drivers of inflation and publishes a monthly forecast closely watched by financial markets. The group's future inflation gauge for the U.S. has fallen about 5 percent from where it peaked at the end of 2005 - one of the reasons why Achuthan doesn't expect the Fed to hike rates anytime soon.
Core inflation has moderated and fallen into the Fed's unofficial target zone of 1 to 2 percent. While inflation has ebbed, Fed Chairman Ben Bernanke said Tuesday that risks on the inflation front remain to the upside, though he also noted the drag on the economy from housing would be longer than originally expected.
The Fed raises rates when it wants to slow growth and ward off inflation, and cuts them in order to spur growth.
And even though inflation has eased, it's not as benign as it has been in previous recessions or during periods of sluggish growth, such as in the mid-1990s or in 2001, partly due to the strength in many mature and developing economies around the world, Achuthan said.
The simultaneous expansion in industrialized nations, along with breakneck growth in India and China the last four years, has helped soak up excess capacity - which in turn has put upward pressure on prices.
Nonetheless, "when you objectively add up what are the leading indicators, they still directionally point to milder U.S. inflation for the next few quarters," Achuthan said. "That could change, but for now I would hold off on ringing the alarm bells on U.S. inflation," he said.