NEW YORK (CNNMoney.com) -- Dow Jones & Co. has implemented change-in-control provisions for 135 top managers as the company considers a $5 billion offer from News Corp., the company disclosed in a filing Thursday.
The company, which publishes the Wall Street Journal, also enhanced severance benefits by creating a minimum 12-week severance period. Dow Jones also modified its annual incentive plan to allow for "deemed attainment" of goals in case of a takeover before year-end.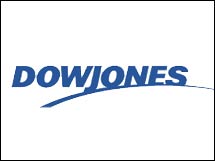 The additional 135 managers will bring the total number covered up to about 160, according to a person familiar with the situation.
"The amendments are intended to enhance the company's ability to retain and attract management-level employees by assuring ... employees that their positions and compensation would not be adversely impacted," the company said in the filing.
The Bancroft family, majority owners of Dow Jones (Charts), held talks with News Corp (Charts, Fortune 500). earlier this week about a possible takeover.
Other names circulating as potential suitors for Dow Jones include billionaire Ron Burkle, who teamed with the union representing Dow Jones employees, as well as Philadelphia newspaper executive Brian Tierney, who on Thursday announced his interest in the company.
Dow Jones stock was up 15 cents to 60.15 in mid-morning trading on the New York Stock Exchange.