NEW YORK (CNNMoney.com) -- Service plans for the iPhone, the much-anticipated creation of Apple and AT&T Inc. slated for release at 6 p.m. Friday, will start at $59.99 per month, the companies announced Tuesday (see correction).
The three plans covering the iPhone each will include unlimited data, 200 SMS text messages, rollover minutes and unlimited mobile-to-mobile calling, as well as the first-ever unveiling of visual voicemail.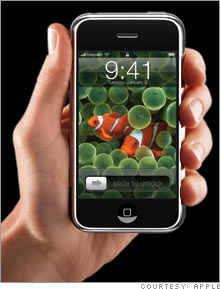 "We want to make choosing a service plan simple and easy, so every plan includes unlimited data with direct Internet access, along with visual voicemail and a host of other goodies," Apple (Charts, Fortune 500) CEO Steve Jobs said in a statement. "We think these three plans give customers the flexibility to experience all of iPhone's revolutionary features at affordable and competitive prices."
Of the plans, the cheapest is the $59.99 package, which offers 450 minutes. Users will pay $79.99 for 900 minutes and $99.99 for 1,350 minutes, with plans based on a two-year service agreement. There is a one-time activation fee of $36 and family plans also will be available.
The phones themselves will cost $499 for the 4-gigabyte model and $599 for the 8-gigabyte model.
Visual voicemail will be set up much like e-mail. Instead of having to listen to each message, users can view a list of their voice mails and decide which ones they want to hear. Equipped with WiFi and a 3.5-inch screen, iPhones combine the popular iPod music device, as well as a mobile phone and Internet access.
Jobs has predicted sales of 10 million iPhones by the end of 2008. Apple shares have soared 212 percent over the past two years.
AT&T (Charts), the exclusive iPhone carrier, is hoping to reap benefits as well
"AT&T has invested more than $16 billion in its wireless network between 2005 and 2007, and iPhone customers will enjoy the best voice and data network in the nation," said Randall Stephenson, AT&T chairman and CEO, in a statement accompanying the service plan announcement.
The two companies also announced that iPhones can be activated on home personal computers or Macs, in much the same way iPods can be activated on the iTunes site. Users will need an iTunes account to activate online, as well as the latest version of iTunes and a supporting operating system.
Correction: An earlier vestion of this story incorrectly said the iPhone would be on sale Friday morning. iPhones will be on sale Friday evening. Also the story incorrectly said that Steve Jobs predicted 100 million iPhone sales by 2008, he predicted 10 million sales by 2008. CNNMoney.com regrets the errors.