NEW YORK (CNNMoney.com) -- Recent recalls of toothpaste, toys, tires and other products have created a marketing nightmare for any company trying to sell Chinese products in the United States. And now they want to sell cars here.
But a J.D. Power and Associates analyst, who spent two years in China studying the automotive industry there, is worried that some of them may be rushing things.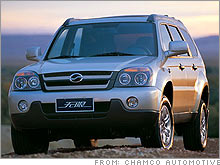 Autos
| | |
| --- | --- |
| 36 month new | 5.91% |
| 48 month new | 5.98% |
| 60 month new | 6.03% |
| 72 month new | 3.78% |
| 36 month used | 6.31% |
Chrysler is expected to announce late Tuesday a long-term deal with a Chinese car maker to build a small car in China for sale in the U.S. market several years from now.
And several other companies plan to introduce Chinese-made automobiles in the United States with one saying it will begin selling cars here next year.
"None of the Chinese are ready at this point in time," John Humphrey, J.D. Power and Associates' general manager manager for the Asia/Pacific region said.
Chinese car companies are "still 5 to 10 years away from approaching even somewhat competitive levels of quality," he said.
Of all the Chinese auto makers, Chery, whom Chrysler has been courting to build a small car, is probably closest to being ready to face highly competitive Western markets, Humphrey said.
With Chrysler's support, he believes, Chery could be ready sooner than others. But "you're not talking one or two years," he said, "You're sill talking about at least a product generation away."
In the auto industry, a product generation is four or five years.
The chairman and chief executive of a New Jersey-based company that's planning to sell Chinese-made cars here beginning in 2008 says his company will be ready by then with a vehicle that will be competitive with the best U.S. and Asian products now on the market.
The company is already set to begin exporting vehicles from China to Mexico later this year.
William Pollack, chairman and chief executive of Chamco Auto said he and his partners spent nine months in China two years ago choosing a manufacturing partner.
"Our number one priority was quality," he said.
Chamco, through its U.S. subsidiary ZX Automotive, plans to import cars made by Hebei Zhongxing Automobile near Beijing. The company is a medium-sized Chinese auto maker but it is the leading producer there of pickups and SUVs, said Pollack.
Besides build quality, which covers such things as durability and the look and feel of interior parts, safety is another major issue for these manufacturers.
Auto safety standards in China are not nearly as strict in China as they are in the U.S., and Chinese car companies don't face the specter of massive personal injury lawsuits in their home nation, said J.D. Powers's Humphrey.
Those are some of the reasons that Chinese car companies have experienced embarrassing crash test failures in Europe where an SUV and, more recently, a sedan, both intended for the European market, failed crash tests by an auto safety group there.
"The threshold for what's acceptable from a quality and safety standpoint is so vastly different," said Humphrey, comparing China to Western markets.
Neither of the vehicles in those European crash tests was made by Hebei Zhongxing, however, and Chamco's Pollack promises his company's cars will be ready for tough U.S. safety tests.
Just passing won't be enough, though. Today, cars sold in the U.S. routinely get at least four out five stars for front in side impact safety when tested by the federal government's National Highway Traffic Safety Administration. Most also get top ratings from the privately funded Insurance Institute for Highway Safety, which has tests that are tougher than the government's.
"We're not releasing a car with one star," said Pollack. "We're not releasing a car with three stars."
The company's Chinese manufacturing facility has an on-site crash test facility where cars are being prepared to meet the safety standards demanded by the American market, he said.
Chamco's cars already meet Mexican safety and environmental standards, which is why the cars will be sold there first. It's also planning to build a manufacturing facility in Mexico near the U.S. border.
The company is planning to bring cars into the United States in 2008 once it's had time to meet stricter U.S. regulatory and market demands, said Pollack.
Chamco guarantees its U.S. dealers "Market Entry Pricing," for prices 20 percent lower than comparably equipped vehicles from competitors including other Chinese manufacturers, according to a brochure posted on the company's Web site.
Low Chinese labor costs, combined with the company's lean and efficient U.S. operations, make that low selling price possible. Hebei Zhongxing's assembly workers earn, on average, the equivalent of $1,300 per year, according to the Chamco brochure.
Whether or not Chamco succeeds in breaking into the U.S. market - and Humphrey said he is not confident it will - Chinese automakers will eventually be a major factor here, he said. Just not as soon as some might think.
"They will get this right," said Humphrey.