FSB -- Dear FSB: My partner and I started an online business selling college textbooks at a deep discount two years ago, in our first semester as students. Now we're 20 and still in school full-time. Our business is doing pretty well, but we want to take it to the next level by trying some rogue marketing. Do you have any suggestions? - Justin Tomevi, Co-Founder, halfcollegebooks.com, Philadelphia
Dear Justin: College students offer an appealing target market for relatively cheap but effective rogue-marketing tactics. First, if you haven't already done so, buy a small ad on Facebook (facebook.com). George DeCarlo, founder of the domain-name registrar Dotster (dotster.com), who frequently advises online startups on gaining market share, suggests you hire students across the country to hand out items such as refrigerator magnets with your web address on them "anywhere students hang out."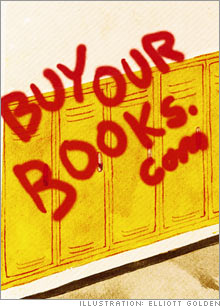 Ask FSB
Get small-business intelligence from the experts. Here's a chance for YOU to ask your pressing small-business questions, and FSB editors will help you get answers from the appropriate experts.
To make your website stand out in a competitive market where CampusBooks.com rules, offer something special. Develop a reputation as a textbook authority, DeCarlo suggests. "Start a blog, with postings like 'The Real Reasons College Textbooks Cost So Much,' " he says, citing research on the subject. Or hire a PR service to get coverage in magazines and on websites. You can find one at Odwyerpr.com, a publisher of trade news in that field. Ah, more homework - just what you wanted, right?

click here
.