NEW YORK (CNNMoney.com) -- The world will learn Saturday whether Harry Potter lives or dies, but book sellers say they're confident the multi-billion dollar franchise will live on.
"Every time there is a new book in the [Harry Potter] series, it generates demand in the previous books because there are people who either want to start the series or catch up," said Kim Brown, vice president of merchandising for No. 1 U.S. book seller Barnes and Noble (Charts, Fortune 500).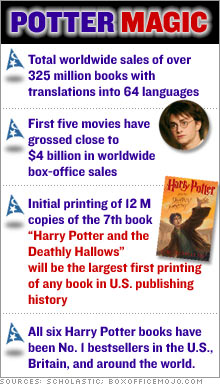 Although Brown did not give specific sales numbers, she said the company continues to see demand for all of the previous Harry Potter books. "Every year there's a new crop of 8 year olds that will get into Harry Potter. This is like a modern-day classic that will be around for a long time," Brown said.
For now though, it's midnight Friday that matters.
When the clock strikes 12, booksellers worldwide release "Harry Potter and the Deathly Hallows," the last in the seven-book series by J.K. Rowling.
Online retailer Amazon.com (Charts, Fortune 500) said it has sold 2.2 million copies of the book worldwide and will start delivering them to customers Saturday.
"Harry Potter and the Deathly Hallows" has already shot to the No. 1 spot on Barnes and Noble's (Charts, Fortune 500) Top 100 bestsellers of 2007, with pre-orders for the book already hitting more than 1.4 million, the largest number of pre-orders for any book in the company's history.
Borders (Charts), the No. 2 bookstore operator, declined to disclose pre-order numbers. To hype up demand for the new book, the company is holding "Grand Hallows Ball" midnight events in all of its more than 1,000 U.S. locations.
Wal-Mart (Charts, Fortune 500), the world's largest retailer, is also keen to cash in on the Potter pot of gold. Walmart.com spokeswoman Amy Colella told CNNMoney.com via e-mail that pre-orders for the book on walmart.com "have more than doubled the volume of the previous Harry Potter release."
The retailer is holding midnight book release parties at more than 2,900 Wal-Mart stores where attendees will also be treated to special Harry Potter-themed pastries prepared by Wal-Mart bakeries.
"We're putting much more effort for this book than we have in the past for the other [Harry Potter] books since this is the final one," said Melissa O'Brien, spokeswoman for Wal-Mart, adding that the retailer would sell millions of the final book.
A new Harry Potter book typically also boosts sales elsewhere in Wal-Mart stores, she said.
"This event affects our entire store," said O'Brien. "We've brought back all the past Harry Potter movies on DVD at a great price. We're also highlighting Harry Potter games."
So what happens after Friday to Scholastic, the book's publisher?
"The publishing industry will go on after Harry Potter," said Lisa Holton, president of Scholastic's trade publishing and book fairs. "Harry Potter is timeless literature that's captivated kids from 8 to 19. Even when we don't publish a new Potter book, backlist sales are so phenomenal that the series still eclipses other children's books."
Scholastic (Charts) is initially printing 12 million books for "Harry Potter and the Deathly Hallows." And Holton said there are more than 121 million copies of the first six Harry Potter books currently in print.
Additionally, the Harry Potter movies are guaranteed to stoke interest in the books for a long time. The first five movies have grossed more than $4 billion globally. Warner Bros, a division of Time Warner (Charts, Fortune 500), parent company of CNNMoney.com, is already working on movies based on the final two installments.
Laine Cunningham, an independent consultant to the publishing industry, called the end of the Potter series a "mixed bag" for the publishing industry.
"On the one hand, the industry doesn't have a brand name with the power of Harry Potter to put on the next book," Cunningham said. "However, you still have the movie tie-ins and other licenses that will keep the brand alive."
"I also think the demise of the series creates an opening for other authors. The publishing industry has woken up to the tween and teen market in a way that it has never done before and I'm sure that publishers are already searching for the next big title," Cunningham said.
Drew Crum, analyst with Stifel Nicolaus & Company, agreed with Cunningham.
"Harry Potter is an extremely popular title and we probably won't see anything like it," Crum said. "But it's also leaving behind a literary classic that will be enjoyed by generations to come."
"Publishing is a mature industry. Once in a while you get a big hit. Harry Potter did create big sales upswings every year a new book came out. No more Harry Potter is probably not good for the industry," he said.
Still, Crum estimates that Scholastic will continue to see sales of between $10 million to $15 million a year just from the backlist for Harry Potter.