NEW YORK (CNNMoney.com) -- A Bear Stearns' hedge fund with about $900 million in mortgage investments is reportedly facing huge losses and is refusing to return investors' money, according to a news report published online Tuesday.
Revelations of the imperiled hedge fund comes weeks after the investment bank closed two hedge funds that suffered losses arising from the subprime-mortgage market.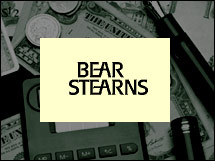 The value of the Bear Stearns Asset-Backed Securities Fund has fallen amid a flurry of mortgage markdowns, the Wall Street Journal reported, sparking fears the bank will have to close the fund as it has done to two others.
Bear Stearns (Charts, Fortune 500) has delayed paying back investors' money in the hope that the values of the fund would rise again, a source told the Journal.
The asset-backed fund's value was up 5 percent from Jan.1 to the end of June, the source told the newspaper. The troubled fund reported holds a range of mortgages with only a sliver being of the subprime category, the Journal reported.
Subprime loans are loans made to borrowers with less-than-perfect credit. Such loans have been roiling markets, setting off fears of a credit crunch or market slowdown in recent weeks.
"There are no plans to shut down the fund," Bear Stearns spokesman Russell Sherman, told the Journal. "We believe the fund portfolio is well positioned to wait out the market uncertainty."