(Reuters) -- Mattel Inc.'s Fisher-Price division is issuing a global recall of 1.5 million toys made in China because their paint may contain too much lead, marking the latest in a string of recalls that have fueled U.S.-China tensions over the safety of Chinese products.
Mattel (Charts, Fortune 500) said the plastic toys, which include popular preschool characters like Elmo, Big Bird, and Dora, were made by a contract manufacturer in China using a non-approved paint pigment containing lead, which is in violation of its standards.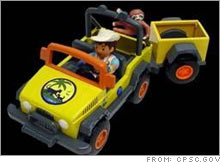 The products were sold at retail stores across the United States between May and August, the U.S. Consumer Product Safety Commission said, and sold for between $5 and $40.
Mattel said it is working with retailers to identify the affected products and have them removed from shelves. It also said it is intercepting incoming shipments.
The recall is likely to increase worries over the safety of Chinese products.
President George W. Bush has ordered a high-level review of U.S. rules intended to keep out harmful imports following a series of scares involving imported Chinese seafood, wheat gluten, toothpaste and pet food.
The incidents have drawn attention to the low rate of inspections of food and other goods and prompted calls in Congress for more aggressive surveillance of Chinese goods.
In recent years, about 66 percent of all U.S. product recalls have been of imported goods, with a majority of those products made in China, according to the Consumer Product Safety Commission.
In late June, concern about the safety of farm-raised catfish, shrimp and other seafood from China prompted the FDA to put a hold on those imports until suppliers prove they are free of harmful residues.
That followed a recall of more than 1 million Chinese-manufactured toy trains on June 13 because some may have contained lead paint.
Earlier this year, melamine, a chemical used in plastics and fertilizers, surfaced in pet food from China, killing animals and prompting wide recalls.
A poisonous chemical often found in solvents and antifreeze was recently detected in some Chinese-made toothpaste.
Mattel said consumers should contact Fisher-Price to arrange a product return and to receive a voucher for a replacement toy. Consumers can visit Mattel's Web site for a full list of items included in the recall.